business
Tourism in Greece May Rebound With New Government
Nick Malkoutzis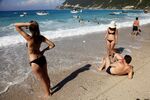 It seems a long distance from the smoke-filled rooms of Greek politics to the sun-kissed shores of the Peloponnese, but Yiannis Rapteas is hoping that a new government in Athens will convince more foreigners to visit the beautiful area of Mani, where he runs his business.
"The most important thing the new government can provide is stability and an end to the uncertainty of the past few months," says Rapteas, who owns the Tria luxury apartments and Paralos beach bar in the fishing village of Stoupa. "For tourists to come to Greece, they need to know things are working and that they won't have any nasty surprises, like going through a currency change in the middle of their vacation."
Greece has been far from the picture of stability over the past few months. Tourism, which accounts for close to a fifth of the country's gross domestic product, has suffered. Speculation about whether Greece would remain in the euro and a prolonged period of political instability due to an inconclusive election on May 6 led to a drop in arrivals. Tourism revenue was down 15 percent in the first quarter of the year and the German branch of the Thomas Cook travel agency (TCG:LN) said last month that bookings for Greece were 30 percent lower than in 2011.
However, there are signs that by forming a three-party coalition and dispelling fears of a return to the drachma, Greece can attract more visitors this year. "After the victory of moderate parties, we are expecting an increase in bookings," said Willi Verhuven, the head of Germany's fifth-biggest tour operator, Alltours. Three parties—New Democracy, Pasok, and Democratic Left—agreed on Wednesday to form a governing coalition, seating New Democracy leader Antonis Samaras as prime minister. The parties plan to seek an easing of strict austerity measures that Europe has imposed on Greece in exchange for some €240 billion ($305 billion) in aid.
"From Monday morning, the phones started ringing with people asking about holidays in Greece," the president of the Association of Hellenic Tourism Enterprises (SETE), Andreas Andreadis, told Skai TV on Wednesday. He says Greece should aim to gradually increase the number of arrivals from about 16 million per year to 20 million. This would increase Greece's GDP by 3 percent, Andreadis suggests.
Improving Greece's image and attractiveness as a holiday destination after three years of crisis, protests, and uncertainty is likely to take time, though. The Greek National Tourism Organization (GNTO) recently launched a campaign called True Greece in an attempt to spruce up the country's negative image in the international media. It recently issued a call for volunteers to help counter "inaccuracies or speculation" about Greece that they come across in social media.
Assuaging travelers' concerns about the complex economic and social situation in Greece is likely to take time. For now, those who make a living from tourism, such as Rapteas, are hoping Greece can persuade the vast number of visitors familiar with the country to come back. "This is a year for foreigners who know Greece; it's not a year for newcomers," he says.
Before it's here, it's on the Bloomberg Terminal.
LEARN MORE