Office Upgrade: The Post-It Desk
By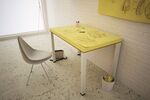 Have you ever played connect-the-dots, doodled, or dragged a dulled crayon through a simplistic maze on a family-friendly restaurant's paper place mat and thought to yourself, "I wish I could do this at work?" Lisbon-based designer Miguel Mestre's My Desk invites your childish antics to the office by turning the entire work surface into a notepad. The 3.5-foot by 2.3-foot desk (priced upon request) comes fitted with paper of the same size. The desk doesn't have any drawers—who needs those when all the paper you'll ever need is right there on your desk?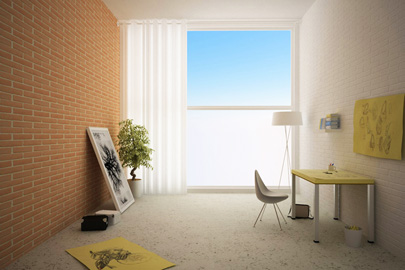 Mestre isn't the first designer to turn work spaces into a coloring book. Italian design firm Soup Studio also offers the Post-Itable, a lacquered wooden desk topped with a 500-sheet pad of sticky yellow paper. The €1,000 ($1,270) desk is touted as "an immediate support for the thoughts that pass through the designer's head," according to a translation of Soup Studio's Italian-language website. "We're going to enter into negotiations with Post-it to provide the paper," says associate designer Carlo Tartaglia.
Mestre and Soup Studio recommend their tables as the perfect surfaces for creative types who work in the fields of art and design. But limiting them to specific industries would deprive the rest of us of their best function: the ability to write obnoxious messages on giant Post-it notes and paste them on a co-worker's computer screen.
Before it's here, it's on the Bloomberg Terminal.
LEARN MORE