Meet Jeffrey Lacker, the Fed's Mister No
Richmond Fed chief is a hawk
By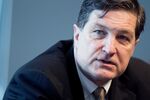 Who is Jeffrey Lacker, and what does he want? Today the Federal Open Market Committee voted 11-1 for a plan of action that includes continuing Operation Twist—trying to lower long-term interest rates by shifting the Fed's portfolio into long-term bonds. The lone dissenter was Lacker, who is president of the Federal Reserve Bank of Richmond, one of the 12 regional banks in the Fed system.
Lacker, 56, has dissented in all four FOMC meetings this year. He is the only voting hawk on the Fed's rate-setting committee, meaning he's more worried about a resurgence of inflation than a deeper economic downturn. The best way to understand him is not through his bio (Kentucky native; president of the Richmond Fed since 2004; married with two children) but through his speeches and articles, in which he expresses a principled objection to the Fed's doing too much, too fast.
Here's a sample:
ON THE DANGER OF THE FEDERAL DEBT
"If the federal debt were to rise to such levels [as in the 'alternative scenario' of the Congressional Budget Office], it is conceivable that our country could hit what economists call the 'fiscal limit,' where it would no longer be possible to raise enough money to resolve the fiscal imbalance. The result would be a very unsatisfying choice: federal debt could be reduced through default, or the real level of the debt could be reduced through inflationary actions by the central bank."
—Annual report of the Richmond Fed
ON REGULATING BIG BANKS
"Attempting to write a credible, detailed living will is the only way we can see of restructuring an institution so that it is not too big or too complex to fail."
—Wall Street Journal, June 13, 2012
(with Gary Stern, former president of the Federal Reserve Bank of Minneapolis)
ON STIMULUS
"Some critics see this moderate pace of expansion as prima facie evidence that the Federal Reserve should provide more economic stimulus in order to boost growth. I disagree."
—Speech at the Economics Club of Hampton Roads Economic Conference, Norfolk, Va., May 2, 2012
ON THE RISK OF INFLATION
"Additional easing is unlikely to have much positive effect on growth prospects, but could well generate a sustained surge in inflation that would be costly to reverse."
—Speech at the Economics Club of Hampton Roads Economic Conference, Norfolk, Va., May 2, 2012
ON HIS DISSENT FROM THE APRIL FOMC DECISION
"My current assessment is that an increase in interest rates is likely to be necessary by mid-2013 in order to prevent the emergence of inflationary pressures."
—Statement released April 27, 2012
ON HOW REGULATORS CAN FAIL
"The more the centralized judgment of a small handful of officials, however well-informed or well-meaning, replaces the decentralized judgments of a multitude of financial market participants, the less resilient our system will become."
—Speech at the Banking Institute of the University of North Carolina School of Law, Charlotte, N.C., March 29, 2012
Before it's here, it's on the Bloomberg Terminal.
LEARN MORE