MBA Journal: Looking Forward
Stephanie Erb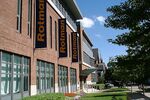 In just a few short days the University of Toronto's Rotman School of Management full-time MBA Class of 2012 will graduate. Gown-clad, they will take a brief walk across a stage, exchange a handshake for a scroll, and—with that one-minute exercise—they will have come to the close of a grueling, rewarding, and ultimately life-changing two years. "They," not "we." While all my former classmates close this defining chapter of our lives, I'll be standing on the sidelines, wishing them well and preparing for my next set of classes.
I couldn't be happier about my decision to take a full-time position at Four Seasons Hotels & Resorts after my summer internship and switch to the part-time MBA program. I have a job that excites me with a company that inspires me. But I'd be lying if I said I don't feel a twinge of sadness that all my peers are moving on, leaving me in their wake. After all, these are the people I imagined having by my side at graduation: the faces I saw day in and day out, the people who shared the highs and lows of that crazy first-year roller coaster ride. And now they're dispersing, trading Rotman's lecture halls and libraries for cubicles and boardrooms. Many classmates are spending their last months of freedom seeking adventure around the world before taking their posts at Bain, Nike, and Johnson & Johnson, to name a few; others are still pursuing the right opportunity in this challenging market. Although I can't exactly call myself a member of the Class of 2012, I'll always consider that group of students my comrades, and I look forward to seeing them rise to prominence in the years ahead, wherever they end up.
Despite the sad fact that these familiar faces will no longer grace Rotman's hallways, there's a lot to look forward to. For one thing, the upside of losing a whole cohort of students is that you gain another; there will be a new crop of fresh-faced MBAs to interact with and learn from—another opportunity to add a new layer to my ever-expanding network. Another plus? For several years now a brand new state-of-the-art facility has been under construction adjacent to the existing building, set to usher in an exciting new era for the school. The Class of 2012 was in the unfortunate position of bearing the brunt of the construction-phase inconveniences (jackhammering during class, for example—as if it weren't hard enough to stay focused in accounting), without the eventual payoff. Luckily for me, I'll be carrying out the remainder of my MBA career in the shiny new Rotman building, which opens its doors Sept. 5.
Although I won't be taking part in next week's milestone event, I did recently celebrate a little milestone of my own. May 2 marked one full year since I first walked through the doors of the Four Seasons headquarters as a nervous and excited intern. Fast-forward to the present, and we've come full circle: Occupying the cubicle next to mine is our freshly minted social media marketing intern, who hails from Rotman, no less. As I help our new intern get the lay of land, I'm struck by how quickly time has passed. It seems like just yesterday I was asking the same questions I'm now answering. It's remarkable how much I've learned in a year; but one of the things I enjoy most about my job is that the learning is never done. This is true in most fields, of course, but it's especially amplified in the fast-moving, ever-evolving world of social media, in which new platforms crop up by the minute and become household names nearly overnight.
I may be dusting off my book bag instead of tossing my cap next week, but for myself and for the graduating Class of 2012, the future is bright. And while I'm envious that many of them have taken their last exam, I can't deny a part of me is content to linger longer in the scholarly realm … well, a little longer anyway. With that, I'd like to salute my former classmates, soon to join the ranks of Rotman alumni. Dear friends, colleagues, and future business superstars, I think three little words (and excessive punctuation) sum it up best: YOU DID IT!!!!!! Congratulations, best of luck, and I'll see you on the other side.
Before it's here, it's on the Bloomberg Terminal.
LEARN MORE