A Tougher 'Say on Pay' Migrates to the U.K.
By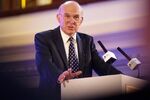 The say-on-pay movement, which gives corporate shareholders a greater voice in setting executive pay, has leapfrogged the Atlantic—and the Europeans may adopt a tougher line than the Americans have.
Britain announced Wednesday that public companies would have to give shareholders a binding vote on compensation every three years. In the U.S., the Dodd-Frank financial reform law of 2010 also requires a shareholder vote on pay at least once every three years, but those votes are nonbinding.
Michel Barnier, the European Union's internal markets commission, wants to go even further. Besides mandatory shareholder voting on executive pay in European-listed companies, shareholders should have the power to vote on the ratio between the lowest and highest-paid employees in the company and the ratio between fixed on variable compensation.
Britain's say-on-pay requirement, announced by Business Secretary Vince Cable, would take effect in October 2013. It would require all listed companies to publish a single figure for each director's compensation, as well as a chart comparing the company's performance and the chief executive officer's pay. "There is compelling evidence of a disconnect between pay and performance in large U.K.-listed companies," Cable told Parliament. "It is right that the government acts to address this clear market failure."
A study released last year by the High Pay Commission, a British lobby group, found that over the preceding decade, directors' salaries at major British companies had risen 64 percent and average annual bonuses 187 percent—even though share prices fell an average 71 percent during the period.
The Europeans also are taking aim at bankers' bonuses. On June 18, European Parliament lawmakers rejected efforts by national governments to water down a cap on banker bonuses that has been included in a draft law on bank capitalization. As in the U.S., public outrage and shareholder rebellions have forced some banks to retreat from initial pay plans. Barclays CEO Robert Diamond agreed in April to forgo about 11 percent of his total compensation until the bank's profit increases.
Shareholders in 44 U.S. companies have voted this year against proposed compensation plans, according to data collected by Semler Brossy, an executive compensation consultancy in Los Angeles. Chesapeake Energy, facing a shareholder rebellion, said last month that it had made "significant" changes to compensation for its board and CEO. In April, Citigroup shareholders refused to endorse CEO Vikram Pandit's $14.8 million package after the stock fell more than 44 percent in 2011.
Before it's here, it's on the Bloomberg Terminal.
LEARN MORE