business
A Socialization of Short-Term Risk
By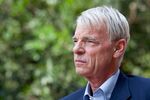 Buying time for reform to work requires socialization of short-term risk. There is no other way to keep bond yields under control and banks functioning, and there is no ironclad guarantee that the reform programs needed to do the job will be approved.
—Michael Spence, "Clarity about Austerity," Project Syndicate, June 19, 2012
A first-rate comedian delivers the first and second joke, fails on purpose with a slight pause, and then brings the house down with a final, third effort. Michael Spence writes that way. It is paragraph-by-paragraph concision, then he pauses and kills you with a brilliant and concise jewel.
The Nobel laureate of NYU, by way of Stanford, absolutely nails the moment addressing what is needed now in his Italy and the rest of Europe. Read his essay and then consider Alan Greenspan's desire for a democratic and shared sacrifice.
Spence goes further because time has run out on republican experiments. Europe cannot afford the set of democratic solutions available in 2008 and decidedly, cannot consider the 28 flavors of "Union" now.
Read this socialistic hope and prayer issued by well-meaning economists in search of 1989. Options are less, if not few. Avoid democracy. Professor Spence's solution: now, a socialization of short-term risk. Discuss.
Before it's here, it's on the Bloomberg Terminal.
LEARN MORE