Unleashing the Power of Social Enterprise
Gib Bulloch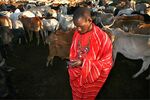 Can social enterprise be the panacea for the Green Economy? That was the question put to me as I joined a panel at the Fair Ideas summit in Rio as part of the 20th anniversary of the Earth Summit.
My answer was an unqualified no. Don't get me wrong. I'm a huge fan of social enterprise and social entrepreneurs. There are fine examples of where they are doing amazing things against the odds, nurtured, supported and celebrated by networks such as the Skoll Foundation, Schwab Foundation and Ashoka. They are certainly part of the mix but not, to my mind, the solution.
Why? Put simply, they lack scale. Too often social enterprises remain small, perfectly formed organizations of five to ten people pursuing a "profits with purpose" agenda. My sense is that these social enterprises will act as business model blueprints for innovation within corporations. Look at IKEA, which in 2008 used more water in a day than the entire population of Sweden that entire year. Today IKEA uses 40% less water. Would even a one degree positive change in any massive corporation not be worth the combined impact of 100 social enterprises?
Where will the change within larger organizations come from – top down or bottom up? It will more often be the latter – real change will come from bottom up and inside out. And when it does, the potential impact will be huge.
The most celebrated example of this is Vodafone's (VOD) M-PESA mobile banking model. Dreamt up in the junior ranks of management – two young marketers with an unusual idea—it was, supported by public funding from the UK Government's development budget. Five years later, 25% of the GDP of Kenya gets transferred effectively via text messages. What's more, the mobile payments model is starting to affect the bloodstream of the parent and is changing the industry.
That's real impact at scale.
Could it have been done as a social enterprise without the scale, the brand or the ecosystem of the corporate? Vodafone's oft celebrated example is not unique – companies such as Nike (NKE), BP (BP), Arup and others are starting to understand the potential of social intrapreneurship. Still, it's early days for social intrapreneurship. But when it comes to achieving the scale of change to have disruptive impact on sustainability challenges, size matters.
Before it's here, it's on the Bloomberg Terminal.
LEARN MORE