business
Let Wages Rise, Somewhat
By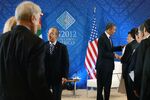 The report also recommends that nominal wages be restrained in the south of Europe while the northern countries should let wages rise somewhat.
—Sandrine Rastello, "IMF Staff Sees Urgent Need for Euro-Area Growth," Bloomberg News, June 18, 2012, 4:30 p.m.
What should the eastern countries do?
To the good and smart IMF economists' credit, they have touched the heart of the matter. Wage differentials in Europe—and the blunt and brutal efficiencies and inefficiencies of the United States of Europe—are the collective distinction of modern Europe.
There is a desire for "recommends that" economic common sense.
Good luck.
The "crises," our crises, have metastasized from sub-prime Las Vegas to British Northern Rock run to Spanish condo denial.
The economists must do better to lead the politicians to a promised, less-panicked land.
None of us needs the absolute folly of believing and hoping an efficient core Europe will let wages rise, somewhat. Discuss.
Before it's here, it's on the Bloomberg Terminal.
LEARN MORE