JOLTS of Bad News on Jobs: Openings Fall Sharply
Big drop in available jobs
by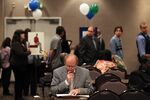 If the rate-setters of the Federal Reserve who are meeting today and Wednesday in Washington had any doubt that the U.S. economy is cooling, those doubts should have been removed by today's bad news from the Bureau of Labor Statistics. The number of job openings fell in April by the most in almost four years.
The numbers come from the Labor Department's Job Openings and Labor Turnover Survey, or JOLTS for short (PDF). And jolting it was: The number of job openings fell by 325,000 from the end of March, to 3.4 million at the end of April. That means companies are cutting back on the number of positions they want to fill.
The number of "quits"—voluntary separations from jobs—also declined. That's another negative sign because it means that people don't dare leave the jobs they're in for fear that they won't find another. It fell by about 90,000, erasing all of the increase in March, which had been perceived as a positive.
"The problem appears to be not so much a high rate of firing but rather a low rate of hiring," Chief U.S. Economist Michael Feroli of JPMorgan Chase wrote in a research note. Employers are hunkered down, not ready to shed current staff—but also not ready to add.
The JOLTS report is not as widely followed as the monthly report on unemployment and payrolls, but it's important in its own right. The softness of the report is "lending credence to the view that the April-May slowing seen in the payroll report was real and not a statistical fluke," Feroli says.
Before it's here, it's on the Bloomberg Terminal.
LEARN MORE