Beneath Microsoft's Surface, a New Tablet and Bold Strategy
Kevin C. Tofel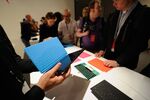 Microsoft has just done what many would have considered unthinkable: It introduced Surface, a new 10.6 inch tablet with two different models designed and built by Microsoft. Aside from the Xbox 360 platform, mice, and keyboards, Microsoft hasn't had much success with its own hardware products, but the Surface slates look appealing and well thought-out.
Even if the tablets do sell well—they're set to launch in conjunction with Windows 8 later this year—there's a key strategic difference from the successful Xbox: Surface tablets place Microsoft in direct competition with its licensees for both tablets and PCs.
From what I saw, the Surface has much to like. There are two devices, a 1.49-lb. slate for ARM chips with Windows RT and a 1.99-lb. tablet for Intel's Ivy Bridge chips running Windows 8. Both are relatively thin, offer full-sized computing ports—think USB—and will be touch-friendly with Microsoft's Metro user interface. These are designed, according to Microsoft, to let the next version of Windows shine.
The full Windows 8 model includes a digitizer that detects when a digital pen is in use and then turns off the touch display for ink support. Unlike old tablet PCs, in which there was significant space between pen and "digital paper," Microsoft says that when in use, the pen is only 0.7 millimeters from the digitizer, bringing the experience of actual writing to the tablet.
Both Surface devices have integrated kickstands and impressive-looking cover accessories that double as keyboards. These thin keyboards also include a trackpad, a great solution to the problem of reaching out to a touchscreen for navigation and input. (Here's a look at the device and accessories.)
With keyboard cover, touchscreen, and kickstand combined with touch-friendly, full-featured Windows software, Microsoft's Surface isn't just a secondary device. Surface can be a complete, portable PC solution as well. Some would say Apple's iPad is, too, and I would agree—to a point.
There are some amazing iOS apps that bring PC-like productivity, but there are still limitations. Surface, running Windows 8, may have fewer limitations and therefore find widespread appeal as an all-in-one PC and tablet device. In fact, I think Microsoft is betting on that because it said the x86 Surface tablets would be priced to compete with Ultrabooks (i.e., laptops). And like many laptops, Surface can output its display to a high-resolution external monitor. Do that and you've got the keyboard and trackpad cover for a desktop solution.
Microsoft has effectively signaled a completely new strategy for its future. Instead of being content with licensing Windows to hardware partners, Monday's actions suggest Microsoft didn't think its partners could integrate Windows 8 software with tablet hardware to make Surface. Remember, just last week it was reported that HTC (2498:TT) wouldn't be allowed to build Windows 8 tablets; this could be why. Then look at the Windows logo on the front and back of this device.
How will Microsoft's partners react? Those who make or plan to make Windows tablets have to feel spurned; they may now need to compete on price or innovate beyond what Microsoft is offering in Surface.
And what about those Ultrabook makers? If Microsoft Surface is priced at or near the price of an Ultrabook, a good portion of potential buyers could go with the touchscreen tablet instead another laptop. Dell, Lenovo (992:HK), Toshiba (6502:JP), Hewlett-Packard, Acer (2353:TT), and Asus (2357:TT) can't be happy with Microsoft right now. Potential infighting in the Windows universe may be why Microsoft kept such a tight lid on the Surface event.
For all the cool factor and innovation Microsoft showed off with Surface, potential pitfalls remain. The company didn't announce pricing or availability details. Microsoft can lose all the momentum it built on Monday the longer those details are held close. And if the price is too high, some of Surface's shine will be lost.
The company said the ARM version would be priced similarly to current ARM tablets—think iPad and Android devices around $400 to $500 and up—and that the device would appear when Windows 8 makes its debut. The Windows 8 Pro model is due out 90 days after that. Both will be sold in Microsoft stores and online, which could also be a challenge. Consumers want to play with a computer before the purchase; if you don't live near a Microsoft Store, will you take the plunge and buy online?
Regardless of what Microsoft's partners think—though that's a big part of the long-term story here—Microsoft impressed many. At times, I felt Microsoft was rushing out the product news, particularly the Windows RT model, to beat any Google Nexus Android tablet introduction next week, even though that should be a smaller, cheaper device akin to the Kindle Fire.
The Surface accessories and the tablets themselves look capable of gaining a foothold in the tablet market currently dominated by Apple. The hardware specifications (available here in PDF) appear to be generous and not anemic, so Surface doesn't appear to be underpowered—at least, not on paper.
That's the key, however. Spec sheets, press releases, videos, and a product demo do not a successful product make. The experience of using Windows 8 on the Surface devices is far more important. That's the big unknown right now. What is known, however, is that June 18 will likely be considered a huge turning point in the history of Microsoft. For three decades, the company was content to deliver software for a price to any hardware maker willing to pay. Now it seems that no price is enough for Microsoft to fully trust its future to computer makers.
Also from GigaOM:
Forecasting the Tablet Market: Over 366 Million Units by 2016 (subscription required)
With New App, Facebook Brings Social Insights to Consumer Health
Greplin Reinvents Itself as Cue, Organizes Your Internet Life
Eucalyptus Updates Cloud Platform in Open-Source Mold
Plexxi Wants to Put Data-Center Networks on a High-Fiber Diet
Before it's here, it's on the Bloomberg Terminal.
LEARN MORE