business
B-School Twitter Roundup
Alison Damast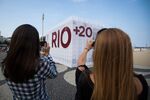 This week's Twitter roundup of happenings in the business school world includes a pledge by B-school deans to pay more attention to sustainability in management courses, an MBA alum featured in a prominent department store ad campaign, and an undergraduate business student who'll carry the Olympic torch next month.
Philadelphia may soon be the next hub for social enterprise companies, with Wharton School MBA alums helping to lead the way (@whartonentrep, 6/12).
Kylan Neih, an undergraduate at the University of California at Berekeley's Haas School of Business, is one of 22 Americans selected to carry the Olympic torch in Oxford, England, next month (@richlyons, 6/12).
T.J. DiLeo, who is pursuing a master's degree in marketing from Temple University's Fox School of Business, is one of five athletes selected to play on the Philadelphia Inquirer Academic All-Area Men's Basketball Team (@FoxSchool, 6/14).
Kimberly Eddleston, an associate professor of entrepreneurship and innovation at Northeastern University's College of Business Administration, expounds on why she believes more women are landing top-level roles at technology startups and companies than in the past (@NU_MBA, 6/14).
Kristen Creager, who recently completed the first year of her MBA program at the University of California at Irvine's Merage School of Business, reflects in her blog on what business school has taught her in the last 12 months (@UCIrvine_MBA, 6/15).
Todd Koch, a 2005 MBA alum of the University of Texas at Austin's McCombs School of Business, is featured with his partner, Cooper Smith, and their two children in a controversial ad in J. C. Penney's June print and online catalog featuring real-life dads and kids (@UTexasMcCombs, 6/15).
France's HEC Paris opens a new state-of-the-art academic building on its campus in Jouy-en-Josas (@HECParis, 6/15).
A group of 300 business school and university leaders attending the Rio+20 Corporate Sustainability Forum agree to put more emphasis on sustainability into the management education curriculum (@globalcompact, 6/16).
Salman Saeed, a student at the University of Cambridge's Judge Business School, and his father, Arshad Saeed, a Judge alum, will soon be the first father-and-son duo to have MBAs from the U.K. business school (@CambridgeJBS, 6/18).
Arizona State University's Carey School of Business increases its online enrollment, part of an effort to help ASU Online reach its goal of having 20,000 students enrolled by 2020 (@WPCareySchool, 6/18).
Join the discussion on the Bloomberg Businessweek Business School Forum, visit us on Facebook, and follow @BWbschools on Twitter.
Before it's here, it's on the Bloomberg Terminal.
LEARN MORE