How Obama's New Immigration Policy Will (May) Help Young Workers
By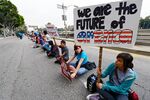 Thanks to the sweeping executive order that President Obama signed Friday, at least 700,000 young illegal immigrants who came to the U.S. before they were 16 and have graduated from high school no longer have to fear impending deportation. What does their future look like, now that they can come out of the shadows?
Right now, young immigrants with high-school degrees and good English-language skills are generally confined to low-skilled jobs in nursing, food service, housekeeping, and janitorial work because they lack documentation. The average annual income for an illegal immigrant is $36,000, according to the Pew Hispanic Center. History shows that illegal workers who are granted amnesty see their wages rise, says Susan Martin, who directs the Institute for the Study of International Migration at Georgetown: "We know from the legalization program in the 1980s that legal status leads to higher wages and more secure employment for the recipients."
That may be the case this time around as well, says Jeffrey Stassel, a demographer at the Pew Hispanic Center. But there's a big "maybe." To do so, young immigrants would most likely have to secure work permits granting them access to higher-paying jobs. And the Obama administration hasn't said how the work-permit process will work, only that decisions will be made on a case-by-case basis. That leaves open a number of questions. Would a youth who is, say, 25, want to apply for work papers knowing that deportation deferrals are good for only up to two years—potentially putting himself in line for deportation later, at age 27? Or would he hedge his bets and keep working under the table, thinking this would keep him in the country (and employed) longer? If he does get a work permit, what happens to him when he turns 30, the age at which the amnesty no longer applies?
"The question for the long run," Stassel says, "is whether there will eventually be some mechanism for them and others to acquire full legal status." Not necessarily a question that will get answered in an election year.
Before it's here, it's on the Bloomberg Terminal.
LEARN MORE