business
Greece's Anti-Bailout Brigade Is Here to Stay
Nick Malkoutzis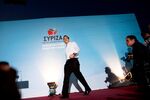 When Alexis Tsipras, the 37-year-old leader of Greece's leftist Syriza party, addressed supporters on Sunday night, he couldn't hide his mixed emotions. His party had collected 27 percent of the vote, making it the second-largest party in the Greek Parliament. The total was six times more than what Syriza polled in the 2009 elections. And yet the enormous attention showered on Tsipras and his anti-bailout stance over the last month had raised expectations so high among party members that coming in second felt like a defeat. "We reached the well, but we didn't drink any water," Tsipras said.
In fact, Syriza has plenty to celebrate. Until recently a fringe party consisting of disparate elements ranging from ecologists and feminists to Marxists and Social Democrats, the party has transformed itself into a sophisticated and cohesive force. After it stunned Greece's political class by winning 17 percent of the vote in the country's first round of elections on May 6, Syriza discovered it had neither the party structure nor the organization to deal with this extra pressure. The leftists gradually pulled together, made their message more coherent, and displayed savviness in their dealings with the media. Tsipras, who a few years ago was being interviewed by school magazines, held his own in interviews with seasoned journalists from around the world.
This experience will stand Syriza in good stead as it prepares to take on the role of Greece's main opposition party. The leftists face a tricky test. The coalition government due to be formed by center-right New Democracy, center-left PASOK, and the Democratic Left has suggested it intends to continue with austerity measures and contentious structural reforms such as labor market liberalization and the sale of public assets. Doing so may encourage Syriza to rally growing public discontent with the measures demanded by the European Union and International Monetary Fund—either through street protests or by trying to strengthen ties with labor unions.
Tsipras's party, however, will have to tread a fine line. While Greeks are austerity-weary, they are also tired of uncertainty about their country's future. They crave stability and are firmly in favor of remaining in the euro. If Syriza's populism is seen as a cynical ploy to ruffle feathers and gain votes, the leftists could face a backlash from some of the Greeks who voted for Syriza on Sunday night.
With an untested coalition government having to rebuild trust with Greece's lenders, while continuing its fiscal adjustment program and seeking a way out of a deepening recession, Sunday's election result is a gift to Tsipras and his colleagues. They have the benefit of burgeoning support without the responsibility of government. The world is unlikely to have heard the last of Syriza.
Before it's here, it's on the Bloomberg Terminal.
LEARN MORE