Get Your Act Together, the World Tells Europe
By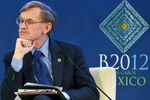 This is not Europe's finest hour. Aside from the reality of rolling crises in Greece and Spain, there is the humiliation of not-so-subtle reprimands from the rest of the world. Poor nations that are accustomed to being lectured to are turning the tables.
World Bank President Robert Zoellick, whose institution helps the world's poorest countries, is openly exasperated that the rich nations of Europe can't get their act together. With some $125 billion deployed, "to have that be a negative story is amazing," Zoellick said today at a panel discussion in the Mexican resort of Los Cabos, where leaders of the G-20 nations are gathered. "It's because the execution was extremely poor."
Indonesia, which was a Dutch colony until after World War II, is equally dismayed by the performance of its erstwhile European rulers. "I hope that one way or another our European colleagues will reach an agreement on rigorous methods to manage the crisis," Indonesian President Susilo Bambang Yudhoyono said in Los Cabos. "The absence of such methods will have unsettling consequences to all of us."
Germany, as Europe's biggest and strongest economy, is coming in for more blame than others for the continent's bumbling response to the crisis. "It's not a complete beating-up session, but Germany is the recipient of fairly caustic criticism from other members of the G-20," Rob Carnell, chief international economist at ING Bank NV in London, said by telephone.
But it will take more than "fairly caustic criticism" from fellow leaders to change Europe's dynamic. German Chancellor Angela Merkel told reporters today that she opposes any changes in the terms of Greece's bailout. Said Merkel: "There can be no loosening on the reform steps."
Let the euro crisis carry on.
Before it's here, it's on the Bloomberg Terminal.
LEARN MORE