ForumWatch: The Value of Online MBAs
Francesca Di Meglio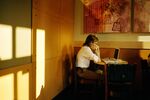 Just about anyone with access to the Internet could earn an MBA from one of countless online offerings. But online degrees do not all garner the same amount of respect in the eyes of recruiters, nor do they all make an impressive statement on one's résumé. As a result, people often come to the Bloomberg Businessweek Business School Forums seeking advice about pursuing an online MBA. They want to know if it is worth the time, effort, and money.
Recently, chiefexec, an online MBA student, asked forum participants if they thought online MBAs from brick-and-mortar institutions with accreditation were legitimate. Chiefexec wanted to know how large employers would view the degree. So far, one response said that only a couple of online MBA programs are considered good enough to carry weight with employers. Another response explained the subtle differences between various MBA programs to show that online MBAs have their purpose, too.
What do you think? Share your thoughts on the "Do employers value online MBA graduates?" discussion thread.
Editor's Note: This blog post is part of a series about discussions taking place on the Bloomberg Businessweek Business School Forums, where prospective MBA program applicants, current students, and recent alumni trade admissions tips, job-hunting advice, and the occasional barbed comment. We invite you to join these discussions or start one of your own.
Before it's here, it's on the Bloomberg Terminal.
LEARN MORE