business
For Greek Politicians, Election Doesn't Make Governing Any Easier
Nick Malkoutzis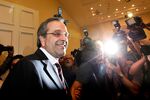 There has never been anything simple about the Greek debt crisis. Forming a government following Sunday's national elections will be not be straightforward either.
With nearly all the votes counted, New Democracy—the conservative party that promised to stick with the bailout by the European Union and International Monetary Fund that's propping up Greece's public finances—was set for a narrow victory over leftist Syriza. The latter opposed the austerity-heavy terms of Greece's loan package.
New Democracy (ND) leader Antonis Samaras interpreted the results as Greek voters saying they want to remain in the euro region. He used his victory speech, which he also delivered in English, as an attempt to convince Greece's lenders that an ND-led government would mean business. "This is a victory for all Europe," he said. "We are determined to do what it takes and to do it fast."
New Democracy was set to receive about 30 percent of the vote, compared with about 27 percent for Syriza. The leading party receives an extra 50 seats in Parliament, giving the conservatives some 130 members. This is short of the 151 needed for a majority and means Samaras must begin hunting coalition partners on Monday.
In the confrontational environment of Greek politics, consensus has been seen as a sign of weakness. Greece has had only two coalition governments, both brief, in the last 38 years. The deep economic crisis is dismantling the old party system, but if anything this makes Samaras's task of bringing together disparate groups more difficult.
The initial signs on Sunday were not particularly encouraging. Syriza immediately rejected any suggestion of entering a grand coalition with New Democracy. Leftist leader Alexis Tsipras said it's his job to oppose the austerity measures the new government will implement. Syriza has been empowered by a rapid rise in support that led it from being a minor also-ran in 2009 to a serious contender this year.
Any resistance Syriza generates is a problem Samaras will need to address later—finding a coalition partner will come first. The most obvious option is to look to ND's traditional rival, Pasok, which gained about 12 percent in the voting. These two parties were accustomed to sharing about 80 percent of the vote but now count themselves lucky to clear 40 percent. They might have to cling to each other to survive politically, but as they do they must also rescue Greece from a perilous economic situation.
That poses a tall challenge, and Pasok has already expressed reservations about whether this can be done with an invigorated Syriza in opposition. Pasok leader Evangelos Venizelos called for the formation of a government of "shared responsibility" involving as many parties as possible. Pasok will elect about 30 MPs, which means it could form a government with only the conservatives. Yet both waning parties know that such an administration would find it difficult to survive. It would need broader public support.
The only leftist party likely to join a coalition is the Democratic Left, which opposes some aspects of the bailout but is firmly committed to the euro. Its leader, Fotis Kouvelis, says the election result—which will lead to seven parties entering Parliament—confirms that Greeks want to enter a new era of consensus politics and coalition governments.
Following the inconclusive elections of May 6, Kouvelis passed up an opportunity to form a government with ND and Pasok. He was concerned his party would be seen as betraying the left and that its support would migrate to Syriza. This time Kouvelis will confront enormous pressure to put aside party concerns.
Any cooperation with the Communist Party and neo-Nazi Golden Dawn can be ruled out, leaving the anti-bailout Independent Greeks as the only alternative coalition partner. It is highly unlikely that Samaras could find any common ground with the Independent Greeks, which was formed earlier this year by conservative outcast Panos Kammenos.
Should Samaras be able to solve this political sudoku, he then faces the task of rebuilding trust with the euro region and the IMF and attempting to persuade them to improve the terms of Greece's bailout. In the Greek crisis, things are not about to get simpler.
Before it's here, it's on the Bloomberg Terminal.
LEARN MORE