Don't Let 'Showrooming' Sabotage Your Shop
By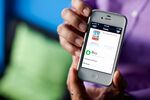 How can retailers protect themselves from "showrooming," where customers come into our store to find products they want to buy, but then walk out or stand right there and purchase them online from someone else? —L. W., Chula Vista, Calif.
Seeing customers turn on their smartphones—and then pass on buying your merchandise—hurts. "It's like being at the high school dance and watching your date leave with someone better-looking than you," says retail consultant Bob Phibbs.
You can try to stop the pain by posting signs encouraging people to shop local, or even fight technology with technology. "In the extreme, retailers will implement lasers in the store to break up handheld scanning apps from reading," Wes Shepherd, the chief executive of online retail intelligence provider Channel IQ, writes in an e-mail.
But in the end, mobile online shopping simply is not going away. Research firm Gartner calculated that worldwide mobile payment transactions will surpass $171.5 billion this year, up from $106 billion last year.
Much of the switch to mobile purchasing occurs in company showrooms and involves customers trying out products and then ordering them from online competitors for less, especially for purchases over $100, says Joel Ronning, CEO of Digital River. The Minneapolis company runs e-commerce websites for some of the largest brands, including Microsoft, Nikon, and Mattel. "Last year, we saw about 15 percent penetration of mobile devices [in online purchasing], and our expectation is that will go up to 25 percent this holiday season," Ronning says.
The point is, digital showrooming feels bad, "but at some point, you go out, get a new dress or put on a tux, and learn to dance," Phibbs says. Small retailers especially must leverage their built-in advantages: Customer service and immediacy. "Any place where you have a mediated sale, vs. the majority of online sales taking place in self-service mode, you have the advantage of personal attention," says Herb Sorensen, a retail consultant and author of Inside the Mind of the Shopper. "I believe this gives brick-and-mortar companies, even the small guys, a huge advantage."
Making sure that employees are trained as salespeople—not just clerks—and having them stress the benefits of taking delivery then and there can go a long way toward mitigating showrooming. Michael Fox, president of M&M Paper in Van Nuys, Calif., says one-on-one sales attention and excellent service are the way to start. "Human interaction will always prevail over ordering online," he says, adding that salespeople should point out online shipping fees and the hassles buyers often face on long-distance returns or exchanges that they wouldn't face in the store.
Another possibility is to work with your suppliers, Ronning says. "We've seen retailers asking for exclusive product mixes and getting commitments from manufacturers not to show those products online. And vice versa, with manufacturers putting products online that are slightly different from what their customers find on retail shelves." Small retailers who handpick specialized items that appeal directly to their customer base have a much better chance of competing for revenue than they would selling mainstream commodity items, he says.
Pricing aggressively can also help, says Gary Faitler, a senior manager focusing on the retail industry at Pitney Bowes Software. "I think part of the solution would be for retailers to identify key products and price them as aggressively as possible in order to limit the price gap, to the degree that the instant gratification of pay-and-carry can be capitalized upon." Allowing sales associates to match online prices, including shipping costs, in certain situations might also work, he notes.
The sweet spot for small retailers is in what Sorensen calls the "surprise and delight" purchase, where shoppers come across an unexpected, must-have treat. Savvy entrepreneurs look for merchandise that can be bargain-priced and offered on a limited basis, lending some urgency, he says. And know your customer: A small grocer Sorensen recently came across runs a daily special on quick, easy dinner items, knowing customers come in exhausted, hungry, and not sure what to cook after work. "A big sign in their window said, 'Fish sticks for dinner tonight,' and they were shoveling fish sticks out the door by the truckload," he says.
Before it's here, it's on the Bloomberg Terminal.
LEARN MORE