Chef Jenn Louis's Office Bag Lunch
By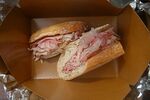 Jenn Louis, owner of Lincoln Restaurant and Sunshine Tavern in Portland, Ore., was named one of this year's best new chefs by Food and Wine. It's not the first time Louis's simple cuisine, which focuses on Pacific Northwest ingredients, has been recognized—she was nominated for a James Beard Award for Best New Chef Northwest in 2010 and 2011.
Louis shares her recipe for a jambon beurre royale sandwich. "The jambon buerre is perfect for the office worker because it's a cold sandwich that doesn't have to be reheated to be delicious," she says. "Plus, it's composed of items that you typically keep in your refrigerator anyway."
Ingredients
Serves 2
1 baguette, about 16"
3 tbs unsalted butter, softened
Pinch fleur du sel
4 oz. fennel, sliced very thin, about 2 large handfuls
1 small radish, sliced thin, about 15-20 slices
Few thin slices of red onion or shallot
8 oz. ham, sliced thin, about 16 slices
Kosher salt
Black pepper
Red wine vinaigrette
2/3 cup red wine vinegar
2 tbs olive oil
2 tbs canola oil
Instructions
Split baguette in half along the equator, leaving part of crust attached. Open like a book. Spread butter along both halves of the inside of the baguette. Sprinkle lightly with fleur de sel. Fold pieces of ham in half and place along both sides of baguette.
In a small bowl, toss fennel, onion, or shallot, then radish and a spoonful or two of red wine vinaigrette. Season with salt and pepper. Place fennel and radish salad down the center of the sandwich. Cut into four pieces and serve with potato chips or French fries.
Before it's here, it's on the Bloomberg Terminal.
LEARN MORE