business
Advice to the B-School Class of 2012
By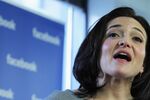 Everyone likes dispensing advice, whether it's solicited or not, or whether it's acted on or not. And given that the products of the top business schools often go on to run major companies, it's perhaps no surprise that the great and good are always queuing up to point them in the right direction, either at the beginning of their MBA programs or when they come blinking into the light after graduation. (See recent Bloomberg Businessweek slide show.)
Among the high-profile celebrity C-suite advisers of recent months has been Sheryl Sandberg, chief operating officer of Facebook, who treated the Harvard Business School class of 2012 with advice she could have used when she herself graduated from HBS in 1995. Although her audience might have been more interested in the inside story of one of the biggest IPOs in corporate history, she contented herself with a call for honesty in business, saying that, "more than anything, you will need to communicate authentically."
Her speech came the day after it was revealed that analysts for Facebook's lead underwriter Morgan Stanley lowered their revenue projection for the company just days before the stock's Nasdaq debut, with major U.S. regulators calling for a review of the circumstances surrounding the initial public offering.
So naturally she made a small cry for help in rebooting the share price—"Keep in touch via Facebook; this is critical to your future success. And since we're public now, could you click on an ad or two while you're there?"
At New York University's Stern School of Business, the 2012 class heard from CNBC television journalist and school alum Maria Bartiromo, perhaps expecting deep insights into the Facebook IPO or the nation's economic woes. Instead, even though Bartiromo is the face of the most-watched financial news program in the U.S., she told them to "take money out of the equation and follow your heart," perhaps forgetting that an MBA from a top U.S. school is going to set you back the best part of $100,000.
But putting celebrities to one side for a moment, what advice would the professionals who are actually tasked with educating the next generation of business (and political) leaders give to their charges?
For Peter Todd, dean of the Desautels Faculty at Canada's McGill University, the key is to do something worthwhile and something you actually care about. "Some of you will become CEOs, some of you will run hedge funds, and some of you will go into public service or work for nonprofits, but I hope that all of you will become philanthropists. Whatever path you decide to pursue, remember to follow your interests and your passions. Do what you want to do. Do what gives you energy. But do it with integrity."
At Southern Methodist University's Cox School of Business in Texas, Dean Albert W. Niemi Jr. takes the integrity factor to its logical limit with the Mom Test. "It's very simple," he says. "Just ask yourself if your mom would be proud of you if she knew what you were about to do. If she wouldn't, then don't do it."
Other business school gurus are less concerned with the philosophical and more with the prosaic: the devil in the detail. "In doing your job, you will have to deal with three categories of people," says Bernard Garrette, MBA associate dean at France's HEC Paris. "People who will always try to help you, people who will always put a spoke in your wheel, and the rest of the world. Most managers spend too much time trying to shift people from the second category to the third. Try to focus more on developing the first category. And never forget what General de Gaulle said about aiming for the top because it's less crowded there."
No matter who you take your guidance from, whether it's a celebrity C-suite member, a TV pundit, or a business school dean, perhaps the last word should be about how valuable (or not) that advice really is. And where better to turn than to the phantom address to graduating MIT students mischievously attributed to Kurt Vonnegut, which became the Top 10 single, Everybody's Free to Wear Sunscreen in 1999? "Be careful whose advice you buy, but be patient with those who supply it. Advice is a form of nostalgia. Dispensing it is a way of fishing the past from the disposal, wiping it off, painting over the ugly parts, and recycling it for more than it's worth."
I couldn't have put it better myself.
Join the discussion on the Bloomberg Businessweek Business School Forum, visit us on Facebook, and follow @BWbschools on Twitter.
Before it's here, it's on the Bloomberg Terminal.
LEARN MORE