Greece Steps Back From the Brink
Voters support pro-euro parties
by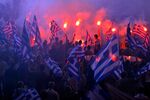 Greece isn't ready to call Europe's bluff. If early indications from the polls are correct, the top vote getter in Sunday's parliamentary elections was the pro-euro New Democracy Party—not the leftist Syriza coalition, which campaigned on a platform of rejecting Europe's conditions for bailout assistance.
That's good news for the rest of Europe—and indeed the rest of the world, which would be harmed by a chaotic exit of Greece from the 17-nation euro currency region.
New York University economist Nicholas Economides, who was in Greece for the elections, said in a telephone interview that "if things go the way it looks like now, the Europeans should breathe a sigh of relief."
Bloomberg News reported that according to final exit polls, center-right New Democracy had narrowly edged out Syriza, with Pasok, the center-left party, which is also pro-euro, coming in third. It appeared New Democracy and Pasok would have enough seats to win an outright majority in parliament if they formed a coalition government.
"I don't see a collapse now. There's going to be a lot of noise, a lot of worry, but I think at some point we will have a government. When, I don't know," says Tufts University economist Yannis Ioanides. "I don't predict that the financial markets are going to say, 'Oh, my God. This is the end.' "
Leaders of all three parties said they favored staying in the euro region, and all three also said the conditions imposed on Greece to receive bailout funds are unacceptably draconian. The difference is that only Syriza was prepared to reject the conditions unilaterally. The more centrist parties favor renegotiation.
Taking party leaders' statements at face value, it appeared that a coalition would be hard for New Democracy leader Antonis Samaris to form, because Syriza leader Alexis Tsipras said he would refuse to join a government, and Pasok leader Evangelos Venizelos said he wouldn't join if Tsipras didn't. But observers were betting that Venizelos would eventually either join a government headed by New Democracy or at least give it a vote of confidence. "A lot of people interpret it [Venizelos' statement] as posturing," says Ioannides. Francesco Daveri, an economist at the University of Parma in Italy, said, "This seems to be a definite improvement compared to the last election."
"New Democracy will have some heavy negotiating to do with Pasok if a government is to be formed in the next few days," Charles Diebel of Lloyds TSB Bank said in a note on Sunday. "Clearly the tone adopted by Pasok is to do with internal politics as they try to avoid being marginalized in the new Greek political landscape."
"We dodged a bullet, for now, if these results hold up," wrote Wells Fargo economist John Silvia.
Economides predicts that the troika—the European Commission, the European Central Bank, and the International Monetary Fund—will make some concessions to Greece as a reward to the nation for pulling back from outright confrontation, and as a way to give the choked economy some breathing room. He expects Greece will receive more government funds for infrastructure, and extra time to balance its budget—perhaps three or four years instead of one or two.
Whether such concessions will ultimately be enough to rescue Greece and keep it as a member in good standing of the single currency is another question. But for the moment, at least, a sudden and uncontrolled "Grexit" is a less immediate threat.
Before it's here, it's on the Bloomberg Terminal.
LEARN MORE