business
Greece Teeters on Precipice as Rebels Face Old Guard
Joanna Kakissis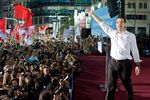 The lone German in the crowd of anti-austerity voters was handing out socialist literature. Stefan Kimmerle, a blonde, bespectacled 40-year-old activist, had flown in from London, where he now lives, to cheer on the rising leftist party, Syriza, and its telegenic young leader, Alexis Tsipras. Back in his home country, German leaders have grown so terrified of Tsipras that the German edition of the Financial Times recently published an online editorial in Greek calling the Syriza leader a demagogue and appealing to Greeks to vote instead for the conservative New Democracy party.
Kimmerle says the fuss shows that EU leaders are actually terrified of democracy. "They want Greek politicians who will follow them blindly," Kimmerle said, as he handed a Socialist newspaper to an elderly couple holding Syriza flags. "They don't want Greek politicians who will question them."
It's a concern that's resonating with many Greek voters, who go to vote on Sunday in what is shaping up to be the most crucial election in Europe. Public opinion polls show New Democracy and Syriza running neck-and-neck.
Still, many voters are underwhelmed by both. "What Greeks want is a stable government, one that will lead them out of this crisis," said Manolis Metaxas, a 25-year-old maritime lawyer who attended a recent pro-euro rally in central Athens. "New Democracy is part of the old guard that got the country in this mess. Syriza is offering policies that are vague and have no connection to reality. These are not good choices."
The last elections, on May 6, resulted in a hung parliament — and no party is expected to win this time around, either. The political limbo has further eroded confidence in a country that is only solvent because of billions international bailout loans. Bankers told Bloomberg that depositors are pulling their money out at a rate of nearly $900 million a day. And on Friday the supermarket giant Carrefour said it was selling its stake in a Greece venture to the Greek supermarket chain Marinopoulos.
"Political instability at this particular at this particular time, this delicate time, means depositors and businesses are worried," says Gikas Hardouvelis, who served as top economic advisor to former technocrat prime minister Lucas Papademos. "Everyone is wondering, are we going to make it? Is there a way through? Will Greece grow? And most crucially, will Greece be a member of the euro area?"
Polls show that most Greeks oppose the austerity measures that come in exchange for billions in international bailout loans. The measures have devastated the Greek economy; unemployment is now at 22.6 percent and the recession is expected to last a sixth year. These same polls show that most Greeks also want to stay in the euro zone and at all costs avoid a reversion to the country's previous currency, the drachma.
Many Greeks don't see an inherent conflict in this. They see the European Union, the International Monetary Fund, and the European Central Bank — the troika of lenders — as bullies who don't want to recognize that austerity isn't working. "We have done what the troika has requested, their recipe hasn't worked, and their response is to accuse us of being lazy and hopeless," says Elli Siapkidou, a 33-year-old political economist now working as an analyst in London. "We want to pay back our loans. But we can't do it under these conditions because the economy is simply going to collapse."
That's an emotional response to a complex problem in Greece, says Tassos Telloglou, an investigative journalist with SKAI, a private Greek TV station. Though he says international lenders have made missteps in handling the debt crisis, Greeks are ignoring that the reforms in the bailout package may actually help the country modernize.
"If you look at Greek history, most of the reforms here have come from outside," he said. "We didn't reform ourselves. We were pushed to reform ourselves. We can reform far better in the euro zone than outside it. So if this instrument of putting pressure to reform gets destroyed — and I mean the euro — then this country's progress will turn back forty years. And the next generation of Greeks will be lost."
Before it's here, it's on the Bloomberg Terminal.
LEARN MORE