business
Rich Russian Wants More Robots
By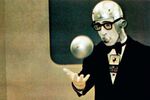 Dmitry Grishin, the chief executive of Russian e-mail and social networking giant Mail.ru, has an elaborate wedding fantasy. He sees robotic drones flying around the guests and snapping their every move from every angle. "People today have very standard pictures," Grishin says. "If you have drones, you can attach a camera and make very nice and different movies and pictures." Add some bartender robots, and you get quicker refills, too.
On Friday, Grishin, 33, declared his intentions to fund a robotics revolution. He's going to set up an investment company—Grishin Robotics—in New York, backed by $25 million of his dollars, that will look out for startups doing promising robotics work. Grishin intends to focus on consumer, as opposed to industrial robotic, applications. "I think it's very important to bring robotics to the mass market," Grishin says. "Huge innovation will only come when people see the results in their everyday lives."
In the mid-1990s, Grishin studied robotics while at university in Russia. He found that a lot of the technology was expensive, which limited it to industrial settings where large companies could afford to make the necessary investments. These days, cheap but powerful cameras, sensors, and other electronics are being used to form the basis of robotics projects. Grishin hopes to find 10 to 20 companies per year doing interesting work and to give them about $500,000 each.
The Mail.ru Group, a Russian investment company co-founded by Grishin, has stakes in Web giants Facebook, Zynga, and Groupon, among others. It's also behind the Mail.ru service, which is Russia's largest e-mail provider and a purveyor of social networking, instant messaging, and gaming sites.
Grishin wants to transfer his experience driving fast-paced consumer Web services to the robotics realm. "I believe in the Internet culture where you aim for big audiences and innovate quickly," he says. "Robotics innovation should not happen at big corporations but instead in small startups with 20 to 30 engineers."
Grishin Robotics will be located in New York, as it's close to the thriving robotics scenes in Boston and Pittsburgh and not too, too far from Silicon Valley. "There's also good work being done in South Korea, Germany, France, and Japan," Grishin says. "You need a true international city, and New York is a great example of that."
Before it's here, it's on the Bloomberg Terminal.
LEARN MORE