Obama One-Ups Romney on Immigration
By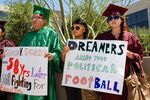 It's not hard to see why the Obama administration announced today that it will stop deporting many young illegal immigrants: The president is drawing an even sharper distinction between himself and Mitt Romney on the issue than Romney has already drawn himself. Under the new plan, those who came to the U.S. before they turned 16, have been in the country continuously for five years, and have graduated from high school, earned a GED, or served in the military, will be exempt from deportation. The policy impacts as many as 800,000 immigrants.
Romney, who took the toughest line against illegal immigrants among the Republican candidates—even Newt Gingrich and Rick Perry criticized him for being too harsh, and former Florida Governor Jeb Bush said Romney should rethink his position—has since tried to shore up his support with Latinos. It hasn't been easy. In recent years, Latinos have been alienated by his party's immigration policies. Republicans in Congress have repeatedly blocked the Dream Act, a law which would create a path to citizenship for these young immigrants.
Latinos have also been angered by a slew of punitive GOP immigration laws which since 2010 have passed in six states, including Arizona and Alabama. Arizona's law—which requires officers who pull someone over on a routine traffic stop to question people they suspect of being in the country illegally—was challenged by the Obama administration. The case went to the Supreme Court, and a ruling is expected any day now.
Obama, who polls show has lost some support among white men, is looking to make up some of that by attracting more Latinos, of whom a record 10 million voted for him in 2008. First he'll have to convince them to register. This year, 21 million Latinos are eligible to vote, but less than half of them are registered. And then he'll have to get them to the polls. In 2008, half of eligible Latinos voted, compared with 66 percent of eligible whites.
The president will also have to persuade Latino activists that this isn't just an election year stunt. Under Obama, the number of deportations has reached record levels, doubling the average during President George W. Bush's first term. Immigration officials have put more pressure on businesses that hire immigrants. And Obama hasn't delivered on his campaign promise to make comprehensive immigration reform his "top priority."
Some Republicans are trying to find a middle path between Romney and Obama. Florida Senator Marco Rubio has floated a modified version of the Dream Act that would give temporary visas to young illegal immigrants if they attend college or serve in the military. Romney hasn't said what he thinks about that.
Responding to the White House announcement, Rubio slyly tried to get the upper hand for his party by damning Obama's plan with faint praise: "Today's announcement will be welcome news for many of these kids desperate for an answer, but it is a short-term answer to a long-term problem. And by once again ignoring the Constitution and going around Congress, this short-term policy will make it harder to find a balanced and responsible long-term one."
Before it's here, it's on the Bloomberg Terminal.
LEARN MORE