Motorola May Have Succeeded in Reviving the Razr
Kevin Fitchard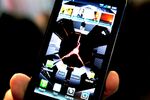 An astonishing bit of news has come out of a recently released financial research note from William Blair. According to the sources of analyst Anil Doradla, the Motorola Droid Razr Maxx has displaced the iPhone 4S as the bestselling smartphone at Verizon Wireless, Barron's reported. The iPhone has always been the top smartphone at every North American carrier it has landed on, so for another vendor—in particular a struggling Motorola Mobility—to displace it is quite a feat.
Of course, long before there was an iPhone, Motorola held the title of the world's iconic device maker. Its Razr phones—and StarTACs before them—were the cutting edge in industrial design, leading customers to buy more than 100 million of the suckers. But Motorola failed to find a suitable replacement for the Razr line, choosing instead to keep retreading the design until it became a bit of a joke (remember the Krzr?).
Since 2011, Motorola has tried to revive the Razr brand, but the Droid Razr and subsequent Razr Maxx aren't just mere retreads. Motorola referenced the Razr's slim industrial design (though it had to make some sacrifices to accommodate the Maxx's fatter battery), but it has otherwise produced a completely different device, powered by Android and its own suite of productivity and entertainment features.
If Doradla is right, and the Razr Maxx has truly begun outselling the iPhone at Verizon, then Motorola and its new Google overlords definitely have cause to celebrate. It's probably a bit too early to predict a revival of the Razr's glory days, though. Since, in the U.S., the new Razr line sells only on Verizon's network, there's no other carrier to compare its sales to. And there are plenty of reasons why the Razr might do uniquely well on Verizon's network and not on AT&T's, Sprint's, or another operator's network.
Verizon's 4G network may not be the deciding factor for most smartphone buyers, but it's certainly impacting some customers' decisions. Verizon has been selling LTE hard, launching huge nationwide advertising campaigns. It may even be steering new customers or upgraders away from the iPhone to its Android LTE portfolio. CNET's Eric Mack wrote that when he contacted Verizon's customer service to inquire about upgrading to the iPhone 4S, the salesman quickly pointed out that the Apple device didn't support LTE and suggested the Razr Maxx or Galaxy Nexus as alternatives.
Few carriers have the stake in LTE that Verizon has. In 2010 it was the first major operator to launch its LTE network, and it has rapidly expanded its network to cover more than 200 million people. Verizon has publicly stated it won't offer any new smartphone model that doesn't contain LTE radios.
While AT&T is also building out its LTE network, its footprint is much smaller, and Sprint won't take its LTE network live until this summer. It would much prefer customers to buy 4G phones in order to justify its LTE investments, but it has far less on the line than Verizon.
It's also important to note Verizon has a special relationship with Motorola: Big Red is one of the main reasons the vendor is still in business. Verizon gets exclusivity on Moto devices and a high degree of customization for its services and branding (hence the Droid moniker), giving the wireless giant every reason to promote Motorola's devices, while a carrier with a more generic relationship with Motorola might not be so inclined to promote the Razr line. AT&T isn't exactly gung ho about the Atrix.
Still, if other carriers see the Razr Maxx selling like hotcakes, they may start asking for the device as well, assuming its exclusivity agreement with Verizon is expiring. If not, Motorola will have to try to build momentum for the devices internationally. It just started selling the Maxx in several European countries.
The real U.S. test will come this fall, when Apple is expected to release an LTE version of the iPhone. Motorola is due for an update to the Razr line in the same time frame, meaning the two 4G devices will likely go head-to-head on Verizon's network during the holiday season. If the Razr's current success is merely due to customers seeing it as a 4G alternative to the iPhone, or because of Verizon's LTE marketing gusto, we'll find out then.
Also from GigaOM:
Is Windows Phone Finally Turning the Corner? (subscription required)
Net Neutrality Could Be a Victim Under an ITU Internet Takeover
Will Amazon Outage Ding Cloud Confidence?
This Russian Mogul Wants to Be the Elon Musk of Robots
Pinterest, Palantir & Harsh Reality of San Francisco Real Estate
Before it's here, it's on the Bloomberg Terminal.
LEARN MORE