MBAs Take Lead in Crafting Economic Plan for D.C.
Alison Damast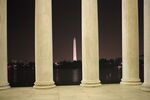 One of the hallmarks of Vincent Gray's mayoral campaign in 2010 was a promise to create a five-year economic development strategy for Washington, D.C., a plan he took action on shortly after he took office in January 2011. First he reached out to a prominent multinational consulting firm for help in crafting the plan, but they quoted the mayor's office a figure exceeding $1 million dollars, says David Zipper, director of business development and strategy at the deputy mayor's office for planning and economic development. Says Zipper: "It was much more than the city could afford at a time when we were facing a budget deficit."
The city went back to the drawing board and soon found a more creative and cost-effective way of getting help: utilizing the resources of four local business schools in the D.C. area. The mayor's office was able to set up a partnership with George Washington University's School of Business, Georgetown University's McDonough School of Business, Howard University's School of Business, and American University's Kogod School of Business. The schools agreed to help the city look at how they could drive growth in seven key sectors: education and health care, real estate and construction, federal government and contractors, retail, hospitality, technology, and professionals services.
"From the city's perspective, a lot of us are looking around and saying, 'Why didn't we think of this sooner?'" Zipper says. "With this, we can tap into expertise and knowledge that we have right outside our door."
Doug Guthrie, dean of George Washington's business school, first came up with the idea for the project after learning from Victor Hoskins, D.C.'s deputy mayor for planning and economic development, that the city was looking for a creative and relatively affordable way to draft the city's economic development plan. Guthrie says he suggested that the business school help the city out, an idea that Hoskins was open to.
"From the time I came here, I was interested in figuring out how our business school could help serve the community and work with the city," Guthrie says. "Our goal was to take our top students interested in consulting and, instead of having them go work for a consulting firm for the summer, have them work for us and the city."
He was soon able to convince the three other business school deans in the area to participate. The schools all agreed to contribute MBA interns to the project—16 were ultimately selected—who would spend their summer serving as consultants for the city, interviewing civic, business, and government leaders, and using their business analytics skills. At the end of the summer they would draft a report that would serve as a blueprint for how the city could diversify its corporate base, attract more international investment, and foster job creation. Washington was able to allocate $300,000 in public funds, and raise an additional $100,000 from the private sector, to pay the interns and operational costs of the project, Zipper says.
David Thomas, the McDonough School's dean, who is serving on the project's executive committee along with Guthrie, says he was eager to get his business school involved.
"Most schools get attached to a plan already developed, and then the business students work to help implement it or provide assistance," writes Thomas in an e-mail. "This is really starting at a higher level by creating a partnership at the planning and development stage between business schools and local government."
Washington's economy survived the recession in decent shape. But April unemployment in D.C. was 8.3 percent, higher than the national average of 7.9 percent, and the region is highly dependent on hiring by the federal government, which accounts for about 29 percent of all employment in the region. Any economic development plan will have to grapple with those realities.
Five McDonough MBA students are participating in the project, including Julia Robbins, who grew up in the Washington area and is doing a joint MBA and master of science in foreign service. She's been involved with the project since March, when the business schools set up a class for the interns that guided them through the process of creating an economic development plan for the city and tackling a consulting contract.
Since mid-May, Robbins has been spending her days interviewing government, regulatory, and business improvement district leaders, and is just starting to interview executives at investment banks and money-market funds. The interns plan to write their report and recommendations this summer and officially present them to the city for review in early September, she says.
"It's been an exiting experience because we've really been given the opportunity to take the lead and be in charge of this project," Robbins says. "I hope that some of the ideas and initiatives we come up with are some that will be undertaken by the mayor's office and really change the landscape for the financial sector and other sectors in the city."
Before it's here, it's on the Bloomberg Terminal.
LEARN MORE