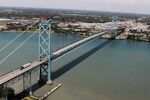 When Rick Snyder took office as governor of Michigan in 2011, he had an ambitious plan to revive the state's troubled economy. Among his goals was to build a new bridge connecting Detroit to Canada. But the former businessman who calls himself "one tough nerd" came up against a billionaire who's just plain tough: Matty Moroun, the owner of the 83-year-old Ambassador Bridge connecting Detroit to Canada, the busiest commercial crossing in North America. (I wrote about Moroun in May in Bloomberg Businessweek.)
Moroun, whose company collects about $156,000 in tolls each day, fought in the courts, lobbied politicians, and spent millions on an advertising campaign to thwart Snyder's proposal. Last fall, the Michigan Senate Economic Development Committee decided not even to bring the plan to the full Legislature for a vote. Now Snyder and the Canadian government have come to terms and later today will announce a deal to build what's been called the New International Trade Crossing. The bridge "is vital to protecting Michigan's jobs and $70-billion-a-year trade with Canada," Snyder posted on his Facebook page earlier today. "The best part of the agreement is that the bridge will create thousands of new jobs … and it won't cost Michigan taxpayers one penny."
The new bridge would be designed and financed by a private operator—who has not yet been selected—and would be overseen by a Canadian agency. Canada will pay up to $500 million to build the interchange needed to connect the new bridge to Michigan's interstate. Tolls will be collected on the Canadian side of the border and used to reimburse the government. Canada wants to ease trade with the U.S. and has made a new bridge its top infrastructure priority, Roy Norton, the Canadian consul general in Detroit, said in May.
Moroun didn't respond to a request for comment, but Mickey Blashfield, the head of government relations for his bridge company, issued a statement that said in part: "At long last, we welcome Governor Snyder out into the public debate. Whether a government bridge will ever be built, it is the people who should decide."
In mid-April, Moroun and his son Matt set up a committee called The People Should Decide that seeks to place an amendment to the state constitution on the November ballot. The amendment would require voter approval of any new international bridge or tunnel backed by Michigan. That effort continues. Meanwhile, in May, Lieutenant Governor Brian Calley said the Morouns are welcome to bid for the contract to build and run the New International Trade Crossing. "That's insane," said Matt Moroun.
Before it's here, it's on the Bloomberg Terminal.
LEARN MORE