Like Oil and Water: Stephen Baldwin v. Kevin Costner
By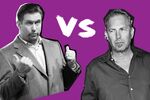 The Deep Water Horizon explosion and oil spill in the Gulf of Mexico caused much death and destruction. It cost many millions to contain and led to the resignation of the head of BP. And apparently it helped rupture the unlikely business relationship between two sometime celebrities: Stephen Baldwin and Kevin Costner. Baldwin and a New Orleans businessman say Costner duped them into selling their stock in a company that made machines to help clean up the oil spill the same week BP placed a $52 million order for the technology. They are now fighting it out in a federal court in New Orleans. Baldwin and his associate are claiming $21 million in damages.
You may remember that as oil was gushing into the Gulf in the spring of 2010, word came of the "Costner solution." It was a machine that could separate oil from water by spinning it. Costner, who says that his 1995 epic flop, Waterworld, got him interested in such things, had acquired the centrifuge technology from the U.S. government for $24 million. So something good came of that movie after all.
Down in New Orleans, Costner began lobbying BP to use his device. "I had to get over the mythology of 'Kevin and his crazy machine,'" he said from the witness stand June 8.  Into the picture came Baldwin, the younger brother of Alec and an actor of sorts himself. Baldwin was in town because he was interested in making a documentary about the oil spill. He was introduced to Costner, and the two came to some sort of an agreement. Baldwin didn't invest any money in the company, which was called Ocean Technology Services: He was to be the other celebrity face. Make of that what you will.
As BP was considering whether to use the device, the company was falling into disarray, according to Costner. The partners were fighting, and the bills were piling up. Baldwin testified on June 11 that he could have raised some money for the company but that no one asked him to do so. Baldwin, who was in bankruptcy proceedings at the time, said: "I could have asked my big brother."  Instead, Baldwin left the company, walking away with $500,000 for his efforts.
The jury in the case will decide if Costner kept information from Baldwin about BP's interest and an $18 million down payment or if Baldwin simply misjudged the situation and got out at the wrong time.
BP did deploy a few of the centrifuges on a barge in June 2010. The company capped the well the following month, and it was permanently sealed in September 2010. The Costner solution turned out to be superfluous. Costner, who's starring in the History Channel's Hatfield and McCoys, has since renamed the company Blue Planet Water Solutions. Baldwin is the star of the upcoming film, Loving the Bad Man.
Before it's here, it's on the Bloomberg Terminal.
LEARN MORE