Bloomberg View: Is Vladimir Putin Going Back to the U.S.S.R.?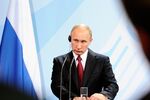 In his second incarnation as Russia's president, Vladimir Putin looks set to repeat some of the mistakes that brought down the Soviet Union, including a nuclear arms race he can't afford. He should change course for his own sake, if not Russia's.
During his first two terms as president, Putin repeated a critical error from the 1970s, failing to use the wealth produced by high oil prices to institute structural reforms. Despite frequent government pledges to diversify Russia's economy away from hydrocarbons, too little was done. About half of this year's government budget is dependent on revenue from the oil and gas industries. Russia's continued vulnerability became clear in 2009, when a slump in oil prices after the Lehman Brothers Holdings crisis triggered one of the sharpest contractions experienced by any major economy. Only Finance Minister Alexei Kudrin's prudent siphoning of energy industry revenue into a strategic reserve fund softened the blow. That fund has shrunk to $60 billion from $140 billion in 2008.
Kudrin was fired last fall after he objected publicly to the government's plans to triple the military budget as a share of GDP by 2014, saying it would entrench Russia's oil dependence and make the economy vulnerable to a downturn. Putin described such fears as "profoundly delusional."
Much of that money is to go for a new generation of ballistic missiles, in direct response to the North Atlantic Treaty Organization's planned missile defense system. This is a Cold War reflex to a system that, even if directed at Russia, could only nibble at the edges of its still vast nuclear arsenal. Putin should use those resources instead to nurture the business and educational infrastructure needed to create the diverse, high-value-added economy that Russia's protesting middle classes want to see.
Putin appears to believe that such a huge increase in defense spending will kill two birds with one stone: It will shore up Russia's great power status, and as he wrote in Foreign Policy, "feed the engines of modernization in our economy, creating real growth." If anyone is delusional, it's not Kudrin.
BOTTOM LINE -
To read Michael Kinsley on the decline of family wealth and William Pesek on China's slowdown, go to: Bloomberg.com/view.
Before it's here, it's on the Bloomberg Terminal.
LEARN MORE