And Now the Happy Hour Has Been Patented
By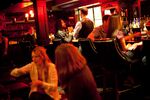 Last month, the prolific technology investor Bill Lee and a couple of cohorts were granted a patent for happy hours. Not the kind where you get discount drinks at a bar, but rather a type of virtual happy hour where you get discount goods on gaming and social networking sites.
Patent 8,180,852 basically works like this: Joe Smith pays Zynga $100 to start a happy hour in which all FarmVille players get a 50 percent discount on virtual apples they buy during the hour. People on FarmVille will see a note pop up on their screens saying that Joe Smith has sponsored a happy hour on apples. Joe Smith, in theory, makes some new friends and expands his social network from this action, other players get discount apples, and Zynga sells more virtual goods. "It's almost like an ad that's sponsored by you, and then everyone says, 'That person is cool' and starts following you," Lee says. "You become the hero."
The patent application was filed in January 2007 as an "apparatus for increasing social interaction over an electronic network." The filing described a system that "monitors for a user input requesting initiation of a happy hour, and when the input is detected, modifies the webpages to alert users of the happy hour. The users are notified of which user initiated the happy hour, and are also notified that interaction incentives accumulate at an increased rate during the happy hour. The system also tracks user scorings that accumulate based on the user interaction, and enables certain website features based on these user scorings. The system also tracks ratings for user-uploaded objects and identifies top rated objects for displaying on webpages viewable by other users."
Fubar, a social networking site that bills itself as an online bar, has been testing the happy hour concept for about three years. Lee describes the service as a "cash-cow," saying that Fubar users like to buy each other virtual drinks and chat. "People want to be greeted like Norm in Cheers and have their 15 seconds of fame," Lee says.
Now the goal is to take the happy hour concept to gaming sites, such as online casinos, where people can sponsor discounts on virtual chips and, one day, to big-time social networks such as Facebook and Twitter. "Everyone wants to collect more followers on Twitter and more friends on Facebook," Lee says. He pitches the happy hour concept as a more subtle approach to acquiring attention than, say, Facebook's idea of having people pay to have their posts inserted into friends' newsfeeds. "No one wants to say, 'Be my friend for $500,'" Lee says. "Social recognition is what people want to buy, and, if you can do it indirectly, then that's a win. I think the Facebook thing is a bit clumsy and cheese. This is more suave."
Lee envisions a day in which retailers such as Wal-Mart Stores use social networks to trigger happy hours in their stores. "The concept works really well on virtual inventory, but you could see it in the offline setting, too," Lee says. "People might get a note on Twitter saying certain items at Wal-Mart are available at a 50 percent discount thanks to company X that sponsored the happy hour."
Lee confesses that the hard-core research behind this idea occurred at bars. "I went to a ton of happy hours in college and always liked the happy-hour concept," he says. "I thought it would be a great way to meet girls."
Lee did all that boozing while getting an accounting and financing degree from UC Berkeley and later JD/MBA from UCLA. He spent a summer at a law firm, which persuaded him to run screaming from the legal profession. And so Lee decided to take a crack at the startup world and served as co-founder and chief executive of Remarq, a company that specialized in helping companies manage their messaging services. In 2000, Lee sold Remarq for $265 million to Critical Path. In the decade that has followed, Lee has invested in such companies as Tesla Motors and SpaceX, which are both run by his close friend Elon Musk. He has also put money into social media and gaming types like Yammer, Hootsuite, Posterous, and Tweetdeck. Last year Lee held about 200 meetings in the lobby of San Francisco's St. Regis hotel, where he lives.
Lee is 41 but looks about 20 years younger with his black ponytail and laid back vibe. After getting rich from Remarq, he spent two years surfing and living in Costa Rica and now spends a lot of time in the Dominican Republic, where he owns a hotel dedicated to kite surfing. "It's a budget place right on the beach and is one of the top three spots in the world to kite board," Lee says. "Surfing is my true passion."
Before it's here, it's on the Bloomberg Terminal.
LEARN MORE