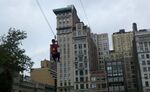 New Yorkers are known for walking much faster than needed on the sidewalk. Naturally, they'd appreciate flying along on a zip line.
And they had that opportunity on Tuesday in Union Square, although none were so New York about it that they whipped out a BlackBerry and send a few texts from the air. The city's department of transportation set up the 160-foot-long line as a preview of its later deployment during Summer Streets, an annual celebration of public space on the first three Saturdays of August. It's the first year that the festival has included a zip line, though New Yorkers have always had other ways to frivol away the afternoon, such as riding a mechanical bull and swimming in a Dumpster pool.
During its run yesterday, people seemed to enjoy whizzing above the heads of tourists and office workers at a height of roughly 30 feet. Perhaps the biggest fan was transpo-department head Janette Sadik-Khan, who enthused, "Look, you don't need a cup of coffee, just ride the zip line!" The ride, which is free, is being managed by Fantasy World Entertainment, whose homepage might make you question their claim that "We Conduct Drug Testing":

Summer Streets will see seven miles of byway closed down for foot and bicycle traffic between the Brooklyn Bridge and 72nd Street. The city has modeled the event after the Paris Plages, which features makeshift beaches along the Seine, and the Ciclovía in Bogota, Colombia, in which 70 miles of the street grid is closed down for biking. If you're in NYC in August, drop by the fest for a free bike helmet.
And Mayor Bloomberg, if you're listening, can you look into the feasibility of making zip lines in the city a real-life people mover?
Top photo courtesy of Summer Streets on Facebook.