Ukraine Tries to Sober Up Its Bears for Euro Soccer
Peter Savodnik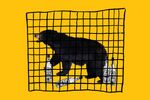 Yura the brown bear, who weighs about 800 pounds and has a friendly disposition, recently moved into a six-by-10-foot cell with a striking view of the Carpathian Mountains. The cell is tidy, with a few clumps of hay and hunter-green bars. A few pens away is Mashenka, who is smaller and has an ecru-brown coat. Then comes Rosa. Vanya Khars, a security guard who watches the bears, says sadly, "Rosa is still an alcoholic." Still, Khars says, "these three are happy here."
In a few weeks, the recovering "vodka bears"—who were once forced to drink moonshine for public amusement—will be released into the neighboring forest, a nearly 30-acre swath of firs and spruces interspersed with snow and rocks and cordoned off by a chain-link fence. They will be the first to graduate from the first bear-rehabilitation center in Ukraine, at the Synevir Nature Preserve. "This is where the bears will become bears again," says Yuri Tyukh, Synevir's vice director. Tyukh says the mountains, in western Ukraine, are a good place to dry out: There's lots of nature and fresh air, and the people from the nearby villages are kindly and churchgoing.
In the former Soviet Union, one of the myths about Americans is that they think there are bears prowling the streets of the former Soviet Union. In fact, most Americans probably never think about streets or bears in the former Soviet Union. They probably never think about the former Soviet Union at all. But, just to be safe, the government in Kiev is moving all the drunk bears on the streets that no one outside Russia, Ukraine, or any of the 15 post-Soviet republics has ever thought about. Its timing is impeccable, notes Amir Khalil, the director of development at Four Paws, the Vienna-based animal-rights group helping the government transport bears to Synevir: Ukraine is now co-hosting, with Poland, the European soccer finals. Hundreds of reporters and television cameras are in Donetsk, Lvov, and other Ukrainian cities hosting matches. Millions are tuning in. "If a foreigner comes here and sees a bear in a bar being treated terribly, it's very bad for the country's image," Tyukh says. "Then, before long, we'll have to worry about Greenpeace, the WWF—all these people and what they will say about us."
The anti-vodka bear campaign started in August, when Mykola Zlochevsky, the minister of ecology and natural resources, ordered that bears that had been locked up and forced to "perform"—usually at roadside cafes, bars, and motels—be freed. Tyukh doesn't know how many vodka bears were in Ukraine before Zlochevsky's announcement. He estimates there are now 80 across the country.
Khalil says each bear needs about 1.2 acres to wander around "in private." That means there won't be enough room for all the bears once they've been rescued, which means the government will have to come up with more forest. Khalil sees this as just compensation for a crime against bears that stretches back to Peter the Great, who ruled the Russian Empire 300 years ago. (The provenance of the contemporary vodka bear is, in fact, unclear. Animal-rights activists tend to view vodka bears as direct descendants of dancing bears, which once figured prominently in the Balkans, especially in Gypsy communities, and in Turkey, Russia, and south Asia. Nicole Dao, a PETA spokeswoman, says it was a nomadic tribe, the Kalandars, that first entertained Mughal emperors, in 16th-century India, with dancing bears.) Khalil says the very idea of bears with any dancing or musical sensibility is absurd.
"Bears in general is not a musical animal," says Khalil, who is from Egypt. "Bears do not hear well. Bears smell well. They smell human beings from 12 kilometers. We force him to live in three-by-two square-meter cage, on concrete ground, and never a chance to touch a grass." Rosa, one of the bears now in rehab, "was living for five years in a petrol station never smelling anything but diesel. It is not easy."
The bearkeepers counter that they treat their bears humanely. Plus, they say, the bears are a source of entertainment for patrons, especially children.
Rostilov Smirnov, who goes by Ross, is the manager of the Dikanka Restaurant, in Ternopil, a few hours by car northeast of the rehab center, at Synevir. The name Dikanka, Smirnov notes, comes from Nikolai Gogol's short-story collection, Evenings on a Farm Near Dikanka, written in the 1830s. Like many Ukrainian restaurants that feature bears, Dikanka, which opened in 2007, feels like a simulacrum of a place that might have been 150 years ago: It features an all-wood interior, with bear and wolfskins hanging from the walls and a stuffed boar and a stuffed eagle. The waitstaff dons traditional Ukrainian skirts and blouses, and the restaurant has its own homemade vodka, which is rust-colored and has a honey-pepper flavor. (Locals usually order a bottle with a side of pickles and "salo," or pig fat, which they smear on black bread, says Sasha Vlassenko, the bartender.) "This is basically Ukrainian style," Smirnov says, "not the posh style, not with the mirrors and flashing lights."
Two bears live in a two-room cell next to the restaurant, just beyond the fake pond and the well. The bears are female and massive, and they come from the mountains. Inside the cell is a tire, two tree stumps, and a wooden contraption, where the bears sleep. Smirnov forgets their names. (Vlassenko says they're called Vassilenko and Ankissa.) The woman who delivers mail stops by while Smirnov is showing off the bears. She seems to have a relationship with the bears and calls them, weirdly, Sofik and Angelique and blows kisses in their direction. "You see," Smirnov says, "everyone loves the bears." Then he tells the post lady not to stand too close. Ankissa is biting one of the bars. She has huge claws.
Smirnov says the vodka-bear ban does not apply to Dikanka because the restaurant doesn't feed Vassilenko and Ankissa vodka. Tyukh says that misses the point: Unless the bears are released into the wild, they won't procreate, and then Ukraine's already dwindling population of brown bears will disappear. (Zlochevsky, the environment minister, did not reply to a request for comment.)
Meanwhile, Khalil says he will "liberate" one bear at a time. Recently he and his team descended on the eastern city of Lugansk to save three-year-old Potap. According to a Four Paws statement, a circus had sold Potap to a sports club. "On the sports club property live innumerable dogs, which are being bred and trained for hunting," the statement says. "Potap was used as a training tool for the dogs—so that when the dogs hunt they are not afraid of bears in the wild." After freeing Potap from the sports club, Four Paws drove him, in a specially outfitted van, 30 hours across Ukraine to the rehabilitation center at Synevir. Khalil says that Potap's owner did not give him up easily and that there was "a lot of dialogue." He has experience with this—for example, last year, in Libya. "In Tripoli Zoo, we offered assistance to wild animals, including nine lions that were Gadaffi family's," he says. "There was a conflict with the rebels. We explained we are like the Red Cross. We are neutral."
The unanswered question is whether saving bears will boost GDP—which is the whole point, as far as the Ukrainian government is concerned. Wally Olins, the chairman of London's Saffron Brand Consultants, which has consulted to the Lithuanian government, suggests the vodka-bear ban may boost tourism. "The fundamental issue is to show people that when you arrive in Kiev, it's not that different," Olins says. "You can buy an espresso, you can sit out on a terrace and have a drink when the weather is nice, you can buy clothes that people buy elsewhere." But the real money—foreign direct investment—doesn't care about bears. Peter Teluk, a managing partner at the Kiev office of the law firm Squire Sanders, which has advised the government on its privatization program, says investors are mostly concerned about Ukraine's legal and regulatory regime.
Plus, there aren't that many bears to rehabilitate—which makes one wonder whether Synevir and Zlochevsky amount to a Potemkin crusade meant to create the impression of progress in a country run by a president, Viktor Yanukovich, who has pulled time in prison and recently threw leading opposition figure Yulia Tymoshenko behind bars. "I have lived in Ukraine for almost 15 years and have not seen any bears at any bars or restaurants that I have visited," Teluk says.
Before it's here, it's on the Bloomberg Terminal.
LEARN MORE