The Fear Factor in Greek Elections
Candidates in the race are exploiting voters' dread of a return to the drachma
Nick Malkoutzis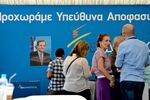 New Democracy, the conservative party hoping to win Sunday's national elections in Greece, recently set up a large stand in Athens's Syntagma Square. It's a few steps from Parliament but it's also about 10 meters from the spot where a 77-year-old pensioner, Dimitris Christoulas, shot himself two months ago to protest the austerity measures choking Greece's economy. In this campaign, fear is ever-present.
Antonis Samaras, the New Democracy leader, is due to speak in Syntagma on Friday in his final bid to convince Greeks to back his party, which came in first in inconclusive elections on May 6. Samaras is hoping that doubts about Greece's future will be enough to hold off the surging leftist party, Syriza.
New Democracy says it will renegotiate the terms of Greece's bailout with the European Union and International Monetary Fund and keep the country in the euro, which is what more than 80 percent of Greeks want, according to recent opinion polls. Samaras says Syriza and its untested leader, Alexis Tsipras—who favors tearing up the loan deal—are mavericks that will drag Greece back to the drachma, its traditional currency.
"You can't bet Greece in a game of poker," Samaras told journalists in Athens on Wednesday. His party has staked its hopes on voters' fear of a return to the drachma. The National Bank of Greece, the country's largest lender, forecast at the end of May that incomes would shrink by 55 percent, gross national product would plunge by 22 percent, and unemployment would rise to 34 percent if the country were to exit the euro.
Miranda Xafa, a former IMF executive board member who is a candidate for the small pro-business party, Drasi, says concerns about Greece leaving the euro zone will influence the way people vote on Sunday. "I think there are signs the fear factor is having an impact," says Xafa. "You can see it in terms of the deposit withdrawals, but I've also had voters telling me they voted for Drasi on May 6 but will support New Democracy in these elections because they fear Greece will go back to the drachma otherwise." The candidate pointed to an opinion poll by Metron Analysis at the beginning of the month indicating that 51 percent of Greeks will vote based on their position on the euro.
Still, New Democracy's strategy has weaknesses. Many Greeks have become immune to repeated threats about their country's euro membership since the bailout began in 2010. Each time Athens and its lenders have found a way to step back from the brink. "I don't think the euro vs. drachma dilemma has gained any traction in this campaign," says Wolfgango Piccoli, a director at the Eurasia Group who spent the past few days in Athens observing the election campaign. "From the people I've spoken to, it didn't really fly with the public."
Tsipras's response to the drachma claims has been to accuse his critics of "blackmail, threats, and lies." The leftist leader insists he wants Greece to stay in the euro. "The threat to the future of the euro does not come from Greece and certainly not from Syriza," he told Kathimerini newspaper in an interview earlier this month.
Samaras is in an uncomfortable position because last June, he was the one dismissing speculation about a return to the drachma as a "propaganda campaign of fear that doesn't convince anyone." Back then, the candidate was taking aim at Pasok's socialist government and its austerity measures. A few months later, New Democracy formed a coalition with Pasok and agreed to a second bailout, which came with a new set of fiscal measures and demands for structural reforms. Samaras's switch from anti- to pro-bailout fragmented New Democracy's support and weakened voters' trust in Samaras and his party.
"Samaras putting forward the euro vs. drachma dilemma is not credible," says political analyst Piccoli. "If there is someone who has really helped to delegitimize the bailout and force the situation we're in now, it's Samaras himself."
With Greece in its fifth year of recession, unemployment at 22 percent, and small business closures outnumbering openings each month, New Democracy's strategy of focusing on things getting even worse could backfire. "There has been little in the sense of hope, to make people believe a turnaround is possible," says Piccoli. "Can you really win an election based on that? I don't know."
In contrast, Syriza has chosen a more upbeat message. "We're opening the path to hope" is the party's campaign slogan. In a country whose people have been living with fear for the last couple of years, it may turn out to be a message that resonates.
Before it's here, it's on the Bloomberg Terminal.
LEARN MORE