Office Upgrade: Half-Standing, Half-Sitting Workstation
By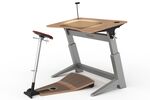 What it is: a seat that you lean on, but don't sit on, and an adjustable-height desk
Cost: seat starts at $650; desk starts at $1,150
A seat for standing may seem like a contradiction, but Jamestown (R.I.)-based Focal Upright Furniture believes an upright, half-standing, half-sitting posture improves circulation and can help office workers stay focused. The new Locus workstation, available in fourth quarter 2012, includes an adjustable stool ($650) that tilts and pivots on a base. The stool distributes some weight to the legs. Focal calls it a cure for "sitting disease." Just remember not to lean back if you get tired. The desk ($1,150) adjusts height and angle, and comes with an optional LED light.
"There is a place between standing and sitting where our body wants to be. It's a natural, neutral posture, and it just feels right," says founder and industrial designer Martin Keen, who also founded Keen Footwear, in a release.
Before it's here, it's on the Bloomberg Terminal.
LEARN MORE