New French Ads Poke Fun at the British Olympian
Julian Sancton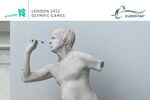 A new French ad campaign for Eurostar, the high-speed train connecting Paris to London's St. Pancras station, pokes fun at the latter city's Olympic aspirations. The posters, created by Paris ad agency Leg, depict two Grecian statues reminiscent of the iconic discus thrower—but instead of the discus, the statues are holding darts and a pool cue, respectively. And instead of a chiseled physique, they display protruding beer guts and doughy pectorals.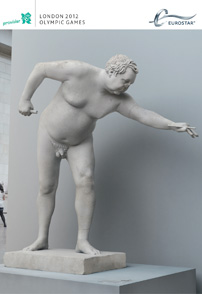 Eurostar, a sponsor of the 2012 Olympic Games in London, has been working with Leg for more than a decade. The agency's ads are the latest in a series of cheeky Eurostar campaigns that play on French stereotypes of English culture. For example, previous posters have featured a redesign of a British banknote displaying Mr. Bean in a tiara; a nose-bleeding, redheaded hooligan; shoddy look-alikes of the Beatles ("London on a Discount"); and an elderly man dressed up as Queen Elizabeth II ("Discover London's Gay Nights").
Playing on national stereotypes in advertisements can be a delicate undertaking—snackmaker Popchips recently had to retract a series of ads featuring Ashton Kutcher in brownface doing a ludicrous Indian accent. But Leg insists the Eurostar ads are in good fun. "They're an homage to English popular culture," says Gabriel Gaultier, president of the Leg agency, which counts Ben & Jerry's and Nike among its other clients.
The new Eurostar posters' sculptures—whose arms, noses, and other extremities appear to have been lost to erosion—were created in digital 3D and based on photographs of schlubby, pub-going types.
Gaultier says Eurostar's playful ads have been universally well-received: "The public awaits [the next ads] religiously, wondering, 'What will they think up next?' There has always been this game between the public and the brand, which has become a point of reference in France, if we can be so immodest."
As for the reaction across the Channel, Gaultier says there's been little. For one thing, Leg's ads don't appear there. In its English ads, Eurostar focuses on the means of transportation rather than on what awaits passengers on the other side.
"High-speed trains are not particularly exotic in France," says Gaultier. "We're used to it after 30 years. For the English, however, it's still absolutely new."
Before it's here, it's on the Bloomberg Terminal.
LEARN MORE