H-1B Visas Hit the Cap, Sending Companies to Plan B
By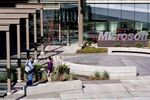 For Silicon Valley, a day of ritual disappointment came on June 12: The U.S. announced that the slots for 2013 H-1B visas had all been filled.
On the first business day in April, U.S. Citizenship and Immigration Services opens the rounds of petitioning for these coveted visas for highly skilled foreign workers. The agency awards the 85,000 visas on a first-come, first-served basis and companies scramble to get in their applications for foreign hires as quickly as they can. (Human resources managers, knowing the cap was close to being filled, worked through the weekend, racing to file.) The cap has been the same since 2004, with 65,000 slots for foreign hires and 20,000 spaces reserved for graduates of U.S. universities.
The speed at which the cap is reached is a loose indicator of the economy's state. In 2007, slots filled up on May 26 (July 26 for university grads). In 2008, the cap was reached in a single day: April 2. In 2009, applications were sluggish and took eight months to reach the cap. In 2011, the slots were filled in seven months.
It now appears that things are picking up again—a good sign for the economy.
So if you miss the H-1B cap, what's a company to do? Firms often begin a game of "musical chairs" with the U.S. visa system, says Neil Ruiz, who studies labor migration as an associate fellow at the Brookings Institution. (Brookings has a cool chart that tracks the cap). Companies may station hires in an overseas office for a year, at which point they could apply for another kind of visa: the L-1B for "key personnel" with "specialized" and proprietary knowledge of a company's procedures and products. Unlike the H-1B, the L-1B isn't subject to a requirement that companies pay a competitive wage. Companies can bring over personnel on a temporary business training visa for 90 days, and then keep trying to renew it. That process is cumbersome and makes it tricky for businesses to plan.
The number of H-1B slots depends on Congress's mood toward foreign workers. Lawmakers frequently propose legislation to change the system for foreign hires with special skills. Bills have been put forth to subject the L-1 internal company transfers to the H-1B's prevailing wage requirement. In the current Congress, Senator John Cornyn (R-Tex.) has offered a bill that would raise the ceiling on university graduates in math, science, and engineering to 55,000. Senators Mark Warner (D-Va.), Chris Coons (D-Del.), Jerry Moran (R-Kan.), and Marco Rubio (R-Fla.) would create an "Entrepreneur Visa" to allow foreigners who start new businesses and create jobs to remain in the U.S.
Since Congress created the H-1B in 1965 and the L-1 for specialized skills and managers five years later, opponents have argued that American workers would be displaced. There's evidence on both sides: A 2009 report from New York University's Stern School of Business and the University of Pennsylvania's Wharton school found that despite the prevailing wage requirement, H-1Bs depress wages in the tech sector by 6 percent. But a Public Policy Institute of California study reached the opposite conclusion: When you take raises into account, H-1B workers ultimately get paid more than their American counterparts. The debate remains a lively one.
Before it's here, it's on the Bloomberg Terminal.
LEARN MORE