Focus on Franco and Asturias's Discontent
by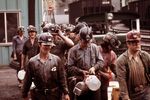 The traditional coal-mining region of Asturias has a history of militant protest and opposition to right-wing governments. In 1934, an uprising in the region led by striking miners was crushed by the fascist General Franco. More than 1,500 miners and 200 civilians were killed, along with 280 Spanish troops and police.
—Mark Moloney, "8,000 Spanish Miners Strike Against Cuts," anphoblacht.com, June 11, 2012.
Why is this not funny? Why is this not SNL?
One of the overwhelming themes of David Kennedy's magisterial Freedom from Fear is what America did not do. America did not protest. FDR and various assembled were stunned at how America contained its depressive desperation.
The same for Spain? Citizens are beginning to gauge, to access their future. And their future is distant from Madrid and incredibly far from the Kingdom of Plutocracy.
Read the @twitter vigilantes. Calculate spreads. Ponder economic data. Focus on Franco and Asturias's discontent. Discuss.
Before it's here, it's on the Bloomberg Terminal.
LEARN MORE