Déjà Vu, All Over Again
Helio Fred Garcia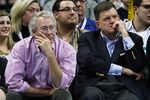 Apologies to Yogi Berra, but the Sage of the Yankees could have been describing the current state of corporate communications. So far, this year's crop of missteps is eerily familiar, with boards and chief executive officers apparently following the playbooks of some of the worst-handled crises of recent years.
Best Buy Follows HP Playbook
In 2010, Hewlett-Packard confused investors by announcing that its CEO was resigning after being found to have not committed sexual harassment. That began a spiral of missteps that in a year cost the company half its market capitalization.
In April, Best Buy announced that "by mutual agreement" its chief executive was resigning. According to the company, it was time for "new leadership." According to investors, it wasn't. The stock tanked. Hours later, Best Buy changed its story: CEO Brian Dunn was resigning amid an investigation into his "personal conduct." Finally, on May 14, Best Buy released the results of its investigation. Working-hours lunches, thousands of text messages, and a personal loan between Dunn and a female subordinate "reflected poorly on the CEO's judgment," said the company. Best Buy founder Richard Schultz resigned as chairman.
Indifference on the High Seas
Two years ago, BP's Tony Hayward became the public face of the company's indifference to victims of its catastrophic oil spill with his "I want my life back" quote. He was gone soon.
On Jan. 13 of this year, the Costa Concordia cruise ship ran aground off the coast of Italy, killing 32. Investors, customers, and the public looked to owner Carnival Cruise Lines for answers. CEO Mickey Arison finally spoke on March 10, 56 days after the Concordia disaster. In an interview with the Miami Herald—5,000 miles from the wrecked ship—Arison said he was "very sorry it happened."
Arison was so torn up that while the Concordia lay capsized, he sat courtside to watch the Miami Heat, the NBA team he owns. "Arison looks like he doesn't care about what's going on," wrote Business Insider's Kim Bhasin. The reaction mirrored derision of Hayward's trip to a glitzy yacht race while oil gushed into the Gulf of Mexico.
Investor Backlash
In 2006, Home Depot CEO Robert Nardelli angered investors who objected to his excessive compensation and strategic drift. At the company's annual meeting, he refused to field questions and limited comments to one minute each.
On April 18, shareholders were outraged to learn that Chesapeake Energy CEO Aubrey McClendon (photo above) had taken a $1.1 billion personal loan from Chesapeake and that his collateral came from an obscure perk called the Founder Well Participation Plan, which granted McClendon an exclusive 2.5 percent equity stake in new projects.
After two weeks of pressure, McClendon stepped down from Chesapeake's board to focus on his duties as chief executive. "I am deeply sorry for all of the distractions," he said on the company's first-quarter conference call.
But the billion-dollar loan wasn't all. New revelations showed that Chesapeake spends lavishly on the McClendon-owned Oklahoma City Thunder basketball team and that McClendon once ran a personal, $200 million energy hedge fund. Nardelli's defiance was more direct, but McClendon's shareholders are just as upset.