America's Fastest-Growing Workforce Fears the Clock Is Running Out
By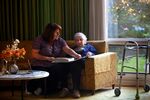 Last December, President Barack Obama made an announcement that was hailed by unions and 1.8 million low-income workers. The administration would close a loophole that exempts home health aides who care for the elderly from minimum wage and overtime protections under the Fair Labor Standards Act. That loophole has been in place for more than three decades. When Congress extended minimum wage in 1974 to domestic employees such as housekeepers, lawmakers excluded babysitters and "companions" for the old and infirm, arguing such care was performed largely by family and friends.
Today, workers in the $84 billion home health-care industry, most of whom are women, represent the fastest-growing worker category in the U.S. Their median annual wage is $19,640.
Six months after the president's announcement, they are still waiting for the administration to issue the promised rules before the November election. They say their hopes hinge upon Obama staying in office. "If, heaven forbid, the Obama administration doesn't get in after the election, and if a Republican comes in, they could roll it back," says Deane Beebe, media relations director of the Paraprofessional Healthcare Institute, which advocates for home care workers. Mitt Romney hasn't taken a position on the rule, while 13 Republican senators have introduced a bill that would preserve the companionship exemption.
Just before leaving office, Bill Clinton proposed a similar rule change, but George W. Bush scrapped it, saying it was too costly. Overtime payments to home health aides would increase Medicaid costs by an estimated $250 million a year.
In 2007 the Supreme Court rejected the claim of Evelyn Coke, a home care worker who sued the government to reverse the overtime exemption for those who care for the elderly. Coke, a single mother of five who earned seven dollars an hour, sued her employer for back pay after learning she had not been paid overtime for years of work. The high court said it was up to the Department of Labor to change the rules.
The administration doesn't appear to be in much of a rush for that to happen. Since Obama's announcement, Labor has twice extended the comment period for the rules, which means the issue could wind up being punted to next year—and perhaps to the next president.
Before it's here, it's on the Bloomberg Terminal.
LEARN MORE