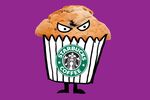 Howard Schultz has a complicated relationship with food. As the chairman, chief executive officer, and president of Starbucks, he has tried over the years to find just the right kinds of fresh food to sell in the company's U.S. stores, which now number about 10,000. Schultz's latest attempt involves the $100 million cash purchase of Bay Bread and its La Boulange bakery, whose products Starbucks will use to replace most of its current baked goods. "After more than 40 years, we will be able to say that we are bakers too," Schultz said when he announced the deal on June 4.
In the company's early days, Schultz had to be persuaded to sell any food at all. He always worried that it wouldn't be the same quality as the coffee. And as the chain grew (and grew) he was proved right. Starbucks had to give up using regional bakers and turn to industrial ones instead. They compromised quality for scale. Then came the recession.
When Schultz reclaimed the responsibilities of CEO in 2008 (after giving them up eight years earlier), he found much to be unhappy about: Starbucks' stock price had fallen, sales were down, the company had over-expanded, operations were inefficient, there was a sense of complacency among employees and frustration among customers, and the stores smelled like burnt cheese instead of coffee. (I wrote about Schultz's return here.)
Among the first things Schultz did was remove the offending breakfast sandwiches from the menu until a culinary task force could reformulate them, and eventually they did. They also came up with new recipes for Starbucks baked goods that used fewer and fresher ingredients. The company developed the Vivanno smoothie and created Bistro Boxes with hard-boiled eggs, cheese, and fruit, among other things. Now Starbucks sells $1.5 billion worth of food in the U.S. every year, 19 percent of its roughly $8 billion in sales. (The company didn't respond to a request for comment.)
Yet Schultz still wasn't happy. McDonald's remains more popular for breakfast than Starbucks, even among Starbucks customers, according to Dave Jenkins of CustomersDNA, a marketing firm in Chicago. "Will buying Boulange help? I'm not sure," says Jenkins. "The pastries and bakery offerings are not necessarily what people are eating for breakfast. They're eating eggs, sandwiches, cereal."
There is another potential problem. The appeal of La Boulange is that it's small (there are 19 bakeries in the Bay Area) and it sells hand-made-in-the-store, authentically French croissants and pastries. Starbucks wants to turn La Boulange into a national artisanal brand, an idea that seems quixotic at best.
"The challenge is they have an ideal of what they want the food to be, and at the same time they are limited by the size and capabilities of the stores," says Jenkins. The pastries served now arrive par-baked and are heated in ovens. "They do coffee hot and cold unbelievably well. Outside of that, there's something that just doesn't seem to work. It's not in the company and cultural DNA," says John Moore, a former Starbucks marketing executive who runs the consultancy Brand Autopsy. "They can get to a satisfactory level but will never be viewed as great bakers."
In a conference call after the announcement of the acquisition, Schultz said Starbucks is looking into "new methodology" that would "demonstrate romance and deliver fresh food for our customers." He didn't elaborate.
As for expanding the number of stores for La Boulange itself, Schultz and his executives didn't give any specific numbers, dates, or locations.
Before it's here, it's on the Bloomberg Terminal.
LEARN MORE