Making the Web's Subscription Economy Hum
By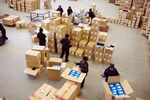 As Web businesses embrace subscription business models to sell consumer goods, the benefits are clear: reduced customer acquisition costs, predictable inventory requirements, and steady cash flow. Last year research firm Gartner calculated that by 2015, more than 40 percent of media and digital-products companies around the world would use subscription services for their fulfillment, billing, and renewals. The challenges in relying on subscription models include controlling customer churn, managing credit-card charge-backs and delinquent payments, and ensuring the security of customers' financial data.
That's why small businesses that are pioneering membership models or adding subscription options to their existing sales efforts often outsource billing and other chores to service providers. "We estimate that there are potentially greater than 15 million companies in North America and Europe that are using [the subscription] model or could adopt this model," says Jeff Yoshimura, vice president of marketing at Zuora, a Redwood City, Calif., provider that handles commerce, billing, and finance processes for clients selling products that range from video-game subscriptions to single-serve coffee packs. He says the 200-employee company's revenue increased by 125 percent from 2010 to 2011.
Common subscription models may be fixed-term, which establish an end date with optional renewal, or evergreen, which keep the subscription in place until the customer cancels. The former tend to be more common when selling to businesses because customers want to lock in pricing, says Steve Adams, chief executive of Fusebill, an Ottawa-based automated-billing provider for more than 100 subscription companies. The main downside with evergreen subscriptions is that customers will forget to cancel and then demand refunds for products they don't want. "The best practice is to make this a convenience for the customer, not a lifelong contract they're locked into," Adams says.
Ken Johnson and Andrew Draper launched their subscription business, Manpacks, in January 2010. Based in Providence, R.I., the five-employee startup targets "guys who want to avoid shopping errands," Johnson says, by sending them a box of essentials—typically underwear, socks, condoms, or razors—every three months. The company has had to overcome would-be customers' worries that stem from unsavory practices alleged against other subscription companies, such as putting through unauthorized charges and making it difficult to cancel service. "Everyone has had a bad experience in their lives with a subscription; they got billed and they got burned," says Johnson.
Chicago-based Sandbox Industries, which develops and funds companies in-house, has used subscription models for roughly a dozen of the Web-based companies it has founded, according to managing director Millie Tadewaldt. These include personal styling service CakeStyle, which sends women four to six outfits each season, and Lost Crates, which sends monthly or quarterly boxes filled with stationery, housewares, and gourmet foods.
"In e-commerce, you typically see a 2 percent conversion rate for everyone who visits your site. We can afford to see a much lower conversion rate, as long as the person continues with us each month," Tadewaldt says. The companies use social media, online advertising, and samples to influential individuals to market themselves. "It doesn't take very many sign-ups off a blog post to cover our cost," she says.
Johnson says Manpacks's billing system is about half homegrown and half outsourced; Sandbox built its own billing system in-house. "We decided not to use [an outsourced billing company] because they limit your options and take a percentage of your sales," Tadewaldt says. She estimates that between merchant account fees of 2 percent to 3 percent of sales and billing services charging 1 percent to 2 percent, a subscription company might wind up paying 3 percent to 5 percent to collect revenues. Some billing services charge a monthly fee, rather than a percentage: Fusebill offers a free trial and starts at about $50 a month.
Common sense dictates that the best candidates for subscriptions are companies selling services and high-end products that are consumed rapidly and are not costly to ship. "Put yourself in your customers' shoes. That way you can make sure that your subscription truly is a service and not an inconvenience," Johnson recommends. "The more premium your product, the better your margins are going to be, so go with high-end if you can. It doesn't cost any more to ship a $50 T-shirt than a $5 one."