business
Let's Call the Whole Thing Off
By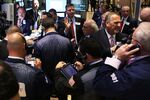 The Standard & Poor's 500 index lost 1.3 percent to 1,308.93 at 4 p.m. in New York, after climbing as much as 0.7 percent in the first minutes of trading. Futures on the gauge surged as much as 1.5 percent before U.S. markets opened. The euro weakened 0.3 percent to $1.2484, after surging 1.2 percent. Oil fell to an eight-month low, reversing a 3 percent jump, and the S&P GSCI Index of commodities slid 1 percent. Ten-year Treasury note yields decreased 5 basis points to 1.59 percent, after surging 9 basis points earlier.
—Rita Nazareth and Michael P. Regan, "U.S. Stocks Retreat, Treasuries Advance as Spain Requests Aid," Bloomberg News, 4:39 p.m.
Aid. Well, that was quick. I thought there was a distinction between re-capitalization and aid. The Spanish say re-capitalization; the Germans, aid. We say tomato.
The volatility of EUR-USD alone is captured by 1.2 percent to -0.3 percent migration, which is pre-Draghi "brutal."
The market vigilantes have voted, after the Twitter Vigilantes lifted heavy intellectual weight over the weekend.
Lift this: Italy.
This is getting ugly, vintage 1937. The summed vigilantes are … vigilanteish. The mood of the Crisisocracy? Let's call the whole thing off. Discuss.
Before it's here, it's on the Bloomberg Terminal.
LEARN MORE