business
Is Ford Facing Off Against Apple Over the Connected Car?
Kevin Fitchard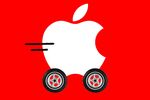 In the next 12 months, Apple's popular virtual assistant, Siri, will start conversing with us through our car speakers. Among the many new iOS 6 features Apple announced at WWDC (Worldwide Developers Conference) was Siri's new Eyes Free feature, which will essentially replicate the iPhone's Siri button on the car steering wheel.
Automakers are lining up to support Eyes Free. Apple showed a slide at WWDC highlighting nine car companies that would be integrating the feature: Audi, BMW, Chrysler, Honda Motor, General Motors, Jaguar, Land Rover, Mercedes-Benz, and Toyota Motor. Not included on that slide was Ford Motor, which just happens to be the most aggressive auto companies when it comes to integrating connected-car technologies such as voice command and voice control.
It's not that Ford doesn't love Apple. In fact, the iPhone is a core device in its Microsoft-powered connected-car platform, Sync, which requires a smartphone to connect to the Internet and to host the infotainment apps Sync ultimately runs. In that sense, Ford wants to integrate with the world's most popular smartphone as closely as possible.
The problem is Apple may have just laid claim to a huge chunk of turf that some automakers view as rightfully theirs. And since Ford has been among the most proactive in pushing the boundaries of connected-car services, it may very well feel that Apple is asking it to give up too much territory
Here's Apple's rather sparse description of Siri's Eyes Free capabilities:
You'll be able to ask Siri questions without taking your eyes off the road. To minimize distractions even more, your iOS device's screen won't light up. With the Eyes Free feature, ask Siri to call people, select and play music, hear and compose text messages, use Maps and get directions, read your notifications, find calendar information, add reminders, and more. It's just another way Siri helps you get things done, even when you're behind the wheel.
The big red flag is navigation. When you ask Siri for directions, it doesn't access Ford's own vehicle nav system and services; rather, it taps into Apple's new Maps service (also unveiled at WWDC). The other features, such as dictating text messages, playing stored music, and reading back notifications, seem innocuous enough since they tap into the iPhone's core functions and not those of competing services. But Sync replicates all of these features through its own voice commands, and Ford has every interest in keeping those features in its dashboard instead of ceding them to the iPhone.
Ford won't make revenue off a dictated e-mail, but it will profit from its own core in-vehicle navigation, information, and entertainment services. The carmaker is also turning Sync into a platform, inviting third-party developers such as Pandora, Stitcher, and most recently MOG to develop apps that take advantage not only of Sync's voice-command capabilities but also the console display and dashboard controls.
If Ford gives up even basic functions such as message notifications to Siri, however, it basically starts handing over its own platform, becoming a peripheral set of speakers and display to the iPhone. Voice is going to be the key user interface in the car, and it's highly unlikely that a driver is going to switch back and forth between two interfaces. So the company that establishes itself as the de facto in-car voice assistant will have a huge advantage.
No matter how revolutionary and useful Siri is, it's important to note that Apple's virtual assistant is a gatekeeper to a walled garden. Integration with Siri isn't an option for developers, except those whom Apple chooses to work with—and so far it really isn't working with any. Instead, it's sourcing content from such partners as Rotten Tomatoes and Yelp to Siri-enable their apps.
You can make the same walled garden claims against Ford. It's actually allowing developers to build on the Sync AppLink platform, but its dev program is invite-only. Ford has said, however, it may open the platform up in the future.
The vehicle represents a huge opportunity to become the new connected device every American family owns, and both Apple and the automakers realize that potential. Today we could be witnessing the beginning of a new platform war, fought not only over the car but over the voice interface that controls it.
Also from GigaOM:
Siri: Say Hello to the Coming 'Invisible Interface' (subscription required)
Juniper Wants You to Know It Gets Software Defined Networking
Feds Give $54M to Cut Manufacturing Energy Use
Did NASA Ditch OpenStack for Amazon?
Facebook: See? We Told You Social Advertising Works
Before it's here, it's on the Bloomberg Terminal.
LEARN MORE