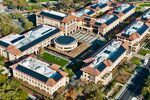 This week's Twitter roundup of happenings in the business school world includes a French business school that created a website to help students carpool, an Illinois runner and undergraduate business major who made NCAA history, and a group of students from Middle Eastern countries who are coming to the U.S. this summer to help increase the Arab world's understanding of entrepreneurship.
A growing number of alumni from the Stanford Graduate School of Business are becoming entrepreneurs, with 16 percent of the class of 2011 starting companies (@StanfordBiz, 6/7).
Lynne Sarikas, director of the MBA Career Center at Northeastern University's College of Business Administration, gives advice on how MBAs can make themselves stand out when pursuing openings via large job-application systems such as BrassRing (@NU_Business, 6/7).
The Dragon Fund, the student-managed equity portfolio at Drexel University's LeBow College of Business, has managed to outperform its Standard & Poor's benchmark over the first five months of 2012. (@LeBow, 6/7).
Michael Crooke, a professor at Pepperdine University's Graziadio School of Business and Management and director of the school's program in socially, environmentally, and ethically responsible business practice, was named one of Ford's Ten Innovators Changing Our World (@GrazidaioSchool, 6/8).
The Fox School of Business at Temple University launches an online bachelor of business administration for flexible learning. It is geared toward students with an associate degree and adults who've taken the equivalent of the first two years of a undergraduate business curriculum (@foxschool, 6/8).
Students from Algeria, Tunisia, Morocco, Egypt, and Palestine will be studying this summer at Indiana University's Kelley School of Business as part of an effort to increase understanding of entrepreneurship and business education in the Arab world (@KelleyIIB, 6/8).
Raghu Tadepalli leaves his post as dean of Babson College's Olin Graduate School of Business to head up Elon University's Love School of Business (@Raghu_Elon, 6/8).
A group of 25 women entrepreneurs from 10 Latin American countries will take business skills classes at the Thunderbird School of Global Management this June, part of a partnership with the U.S. Department of State and the Goldman Sachs 10,000 Women initiative to bring business education to female entrepreneurs in developing countries (@Thunderbird,  6/9).
Andrew Riley, a senior finance major at the University of Illinois, Urbana-Champaign's College of Business, becomes the first male athlete in the NCAA to win the 100 meter and 110 meter hurdles events in the same year (@uiucbusiness, 6/11).
Essec Business School in France takes a step toward becoming Green by setting up a website that helps students organize carpools to school (@essec, 6/11).
Join the discussion on the Bloomberg Businessweek Business School Forum, visit us on Facebook, and follow @BWbschools on Twitter.
Before it's here, it's on the Bloomberg Terminal.
LEARN MORE