Apple vs. Google: Starkly Different China Experiences
by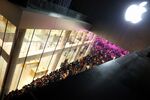 In China, sometimes having the first-mover advantage is often no advantage at all. Case in point: Apple vs. Google. The two companies have taken very different approaches to the world's second-largest economy. Google moved quickly into the market, luring away a top executive from Microsoft to run its China business and taking aim at local search-engine champion Baidu. Meanwhile, Apple was in no rush. The company waited until 2008 before opening its first Apple Store, in Beijing, and has been slow to add more outlets. Today there are only two stores in Beijing and three in Shanghai.
Yet, as executives at the company's Worldwide Developers Conference on Monday talked up their China plans, it seems clear that Apple's go-slow approach is starting to pay off. Scott Forstall, Apple's president of iOS software, and head of Mac software engineering Craig Federighi both highlighted in their presentations new features designed to attract Chinese users. "Get your apps ready for China," Federighi told the developers.
In its rush to get into China fast, Google made mistakes. It had to fight in court just to get the Microsoft executive, Kai-fu Lee—four years later, Google was still badly lagging Baidu and Lee had left the company. Google also couldn't decide what it wanted to do about China's censorship rules. Eventually the company decided to relocate its search service outside the mainland rather than succumb to Chinese censors, a move that won kudos from free-speech advocates in China and overseas but also embarrassed the Communist Party leadership and jeopardized Google's other China plans. It now has just 16.6 percent of the Chinese search market, according to Chinese research firm Analysys International. Baidu has 78.5 percent.
With its haste to penetrate the China market, Google even ended up with an awkward-sounding translation for its name in Chinese: Gu Ge—which sounds a bit like Google but means "valley song," a rather odd, amorphous phrase.
No such problems at Apple, whose name in Chinese is simply Pingguo—Mandarin for apple. Apple successfully took the long view when it came to finding Chinese partners for the iPhone. The company negotiated with the market leader, China Mobile, but was willing to walk away and team up with the No. 2, China Unicom. That was a major risk because Unicom not only was much smaller but also had a reputation for poor service.
The iPhone was such a hit with Chinese consumers that Apple hasn't suffered. In April the company added a second carrier, signing a deal with China Telecom (728:HK). Even though Apple has yet to reach an agreement with China Mobile to sell phones using the Chinese company's home-grown 3G standard, Apple enjoys strong sales to China Mobile customers who avoid the 3G problem by using Wi-Fi. China accounted for 20 percent of Apple's sales in the first quarter of this year and is now the company's second-biggest market, after the U.S.
Not everyone is persuaded that Apple's approach has worked. The company has left a lot of money on the table by not capitalizing quickly on Chinese consumers' fascination for Apple products. "If they had really come up with a China-first strategy, [Apple] would have done much better, far earlier," Shaun Rein, managing director of China Market Research Group in Shanghai, told Bloomberg TV in March.
That said, operating in China is tricky. With its Communist government, the country presents more challenges than most other big markets. If Apple had picked up the pace, it might have gone too fast for its own good. Just ask Google.
Before it's here, it's on the Bloomberg Terminal.
LEARN MORE