Will China's Exports Drain Growth From Other Countries?
Making up for weakening domestic growth
By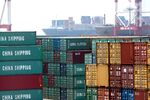 China's exports grew 15 percent in May from a year earlier. That was double the pace analysts expected, according to Bloomberg News. That's good news for China. It's not necessarily good news for the rest of the world, though.
Here's why: China's trading partners want vigorous domestic growth in China so the country imports more. But that's not what's happening. If instead China tries to keep its economy aloft through exports, it is actually subtracting from growth in other countries: Chinese production is displacing production that would be done by domestic workers in the U.S. and in other countries.
China isn't putting all its eggs into the export basket. HSBC Holdings predicts the government may boost tax cuts and speed up spending on public works. The bank says further reductions in interest rates are "possible" and that bank reserve requirements may be cut four more times this year to spur lending.
But exports do appear to be one important safety valve for China's leaders. Under pressure from the U.S., China had been allowing its currency to appreciate, which had been shrinking its trade surplus. But after gaining almost 8 percent since the summer of 2010, the yuan has drifted back downward, losing a little more than 1 percent since early May. That will make Chinese goods more competitive in world markets.
Expect more stress on U.S.-Chinese relations if this continues. Republican presidential candidate Mitt Romney has already expressed his intent, if elected, to label China a currency manipulator. President Barack Obama has created a group to investigate trade law violations, especially by China.
Before it's here, it's on the Bloomberg Terminal.
LEARN MORE