business
The Twitter Vigilantes
By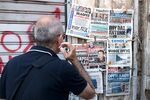 FINLAND'S URPILAINEN SAYS EUROPEAN STABILITY REQUIRES SPAIN AID
BN 6/9/12 2:05 PM
—KATI POHJANPALO
-0- Jun/09/2012 18:05 GMT
Once upon a time, there were bond vigilantes. They were most evil until the swaps, stock, and FX vigilantes showed up. They were worse.
Politicians in search of control would wait for closed markets, then act and allow the vigilantes to ponder 'til Monday.
It was stunning, just stunning Saturday, to watch digital media in full force.
Driven by Bloomberg headlines, Twitter owned the debate.
The Internet-first crew pummeled Main Stream Media with immediate paragraphs of perspective, then delivered substantial and smart articles as MSM issued tentative first reporting.
Bloomberg's Linda Yueh led on Twitter. Joe Weisenthal at Business Insider and ZeroHedge worked off the Bloomberg headlines on Finland and ESM/EFSF subordination.
The academics weighed in with Tyler Cowen of Marginal Revolution out front. Then our European team led by editor James Hertling and the FT's Peter Spiegel.
Then on to Sunday with global Street research (Fels, Nixon, Nielsen, Benito and Callow), and Ambrose Evans-Pritchard at the Telegraph. There will be many more before Asia opens.
I combine all these efforts as they are a set of informed, integrated insight that has changed forever how political elites act, and cannot act, in crisis. The Rules of Engagement are being rewritten. Monday beckons sooner.
The digital thinkers of economics, finance, and investment are far ahead of the markets and humble the "control" of the elites. It's those pesky Bloomberg headlines and the Twitter Vigilantes. Discuss.
Before it's here, it's on the Bloomberg Terminal.
LEARN MORE