business
MBA Public Relations Courses Set to Begin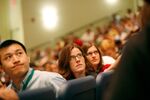 Northwestern University's Kellogg School of Management and the University of Maryland's Smith School of Business are among the five MBA programs picked for a new pilot program that will help business schools become more skilled at teaching public relations, corporate communications, and reputation management.
The other schools participating are Dartmouth University's Tuck School of Business, Quinnipiac University's School of Business, and the University of Texas at El-Paso's College of Business Administration.
The pilot, organized by the Public Relations Society of America (PRSA), the largest industry group for public relations professionals, seeks to make the topic of public relations a more mainstream part of today's business school curriculum, says Joseph Cohen, a senior vice president at the public relations firm MWW Group who also serves on PRSA's board of directors.
The group decided to make a push for public relations to be taught in MBA programs after commissioning a study in 2011 showing that the vast majority of business leaders believed business schools need to incorporate lessons on these topics into the MBA curriculum and many top managers need additional training in core communication skills. Another study done by PRSA in 2010 found that in nearly 80 percent of MBA programs, students were not receiving any specific training on the role public relations plays in such areas as brand management and strategic communications, Cohen says.
"The public relations discipline is all but invisible within most MBA programs," he says. "We saw there was an appetite within corporations for this skill, but within MBA programs, it just wasn't being taught."
Paul Argenti, a Tuck professor and author of the textbook Corporate Communications, has developed the curriculum for the pilot. Each school will be able to take his course guidelines and adapt them to the needs of the school, he said in an interview last December. Tuck has been teaching a required class on corporate communications for 30 years but has recently added new topics to the course, including sessions on negotiations and reputation management.
Kellogg has been providing a class on reputation management for the past decade, and the course is required across all the business school's degree programs, says Daniel Diermeier, the school's IBM professor of regulation and competitive practice. Kellogg, which will continue to offer the course, hopes to serve as a resource for other schools participating in the pilot and also learn from what other schools are doing, he says.
"We want to help move schools from thinking about this as a specialized skill within the public relations field to something that is an important skill for anyone with leadership responsibility," Diermeier said. "That is why we are so adamant that this is part of the MBA curriculum."
The Smith School will be offering a class in the subject for the first time ever, says Ken White, the school's  assistant dean for marketing communications. Until now, the only offerings the school has had in this area have been one-or two-day seminars on such topics as public speaking and interviewing through the school's career services office, says White.
The school was eager to sign up for the pilot because the campus is only eight miles from downtown Washington, D.C., and realized that the course could be a valuable asset for students, he says. Twenty students have signed up for the class, says White, who is teaching the elective.
"We thought, wow, a course like this really belongs here, since this is such a hot field in our region," he says. "It's also an opportunity for us to partner with other business schools to influence curriculum and learning and outcomes, which was exciting."
The other two schools participating in the pilot plan to roll out their classes next spring and will work with the other pilot schools and PRSA this fall to help shape the course, says Cohen. The University of Texas at El Paso's business school currently offers the class in its executive MBA program and plans to reformat it for the school's regular MBA program. Quinnipiac's business school does not yet offer a course on this topic and will be creating it from scratch.
After the pilot is completed, PRSA will release a white paper next August that will serve as a guide for schools looking to incorporate public relations into their curricula, Cohen says. The organization plans a full national rollout of the program in the 2013-14 academic year.
"Students, prospective employers, and schools all have an interest in MBA programs offering this course," he says. "Many schools are eager to move in this direction."
Join the discussion on the Bloomberg Businessweek Business School Forum, visit us on Facebook, and follow @BWbschools on Twitter.
Before it's here, it's on the Bloomberg Terminal.
LEARN MORE