Friends, Romans, and Countrymen Who Do Not
by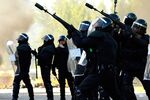 The American concept of the weekend has its roots in labor union attempts to accommodate Jewish workers who took Saturday instead of Sunday as their Sabbath. The first five-day work week was instituted by a New England cotton mill for this reason.
In 1926, Henry Ford began shutting down his automotive factories for all of Saturday and Sunday. In 1929, the Amalgamated Clothing Workers of America was the first union to demand a five-day work week and receive it. After that, the rest of the U.S. slowly followed, but it wasn't until 1940 that the two-day weekend began nationwide.
—Workweek and Weekend, Wikipedia.
1940!
Spain needs a weekend, it needs to "shut down." Instead, there is "a conference call." (Do finance ministers doodle on conference calls? What do Technical Meeting people do when there is no technical meeting?)
We all need "a weekend." In New England or Greece.
I do remember when we were Crisis free. What gives pause is the percentage of family, friends, Romans, and countrymen who do not. Discuss.
Before it's here, it's on the Bloomberg Terminal.
LEARN MORE