Wall Street's Wages of Fear
by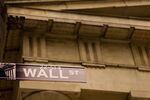 Anyone who endeavors to invest in the stock market will have to evolve extra stomach lining. There's a pre-Lehman waft to the air, with Greece just days away from electing someone who might dare to untether the collapsing economy from the euro—a turn of events that could collapse other economies. Spain is nearly insolvent. The U.S. cannot create nearly enough jobs amid the weakest recovery from a recession in seven decades. And Federal Reserve Chairman Ben Bernanke is being asked to come up with more strings to push on.
Why should anyone give equities the time of day? Indeed, the Standard & Poor's 500 index has shed as much as 10 percent from its peak in April; investors have yanked money from U.S. equity funds every month since April 2011, the longest streak of outflows since the Investment Company Institute began tracking the data in 1984.
The one beautiful thing about all this fear is how it unwittingly improves the market's risk-reward proposition. The S&P 500 dividend yield of 2.17, for one thing, already far exceeds the yield of the 10-year Treasury, which just touched a record low of 1.4387 percent. But the top 10 yielding components of the Dow Jones industrial average—which include AT&T, Johnson & Johnson, and Intel—now pay out an average of just under 4 percent. If you were to just buy the group, chug some Maalox, and collect your quarterly dividend checks (assuming that the world didn't fall apart and prompt companies to scotch their payouts), you'd pocket substantially more than even the U.S. 30-year bond, which just touched a record low yield of 2.5089 percent. There's also the real possibility of capital appreciation: Hardly anyone caught the fact that the U.S. stock market hit an all-time total-return high (i.e., dividends included) just two months ago.
For all the fear and risk-aversion, S&P 500 earnings are on track to reach a record this year and to climb 13 percent in 2013, according to analyst estimates compiled by Bloomberg. Even so, the market's price-earnings ratio remains more than 20 percent below its five-decade average. Put it all together and it's ever harder to argue that wading into the market now is any more reckless than lending your broke Uncle Sam money at two and a half points until the year 2042.
Before it's here, it's on the Bloomberg Terminal.
LEARN MORE