business
UCLA MBA Moves Toward Self-Sufficiency
Alison Damast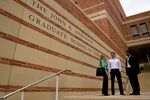 University of California, Los Angeles faculty leaders voted to support the Anderson School of Management's proposal to forgo state funding for its flagship MBA program in a tight vote yesterday, a crucial step that could soon make it the first mainstream University of California program to rely solely on tuition and donations.
The proposal, which passed by a 53-46 vote, needs to be approved by the University of California (UC) systemwide Academic Senate and by UC President Mark G. Yudof before it can be implemented at Anderson, the school says. It's unclear where Yudof stands on the UCLA proposal, although he did approve a policy of self-sustaining programs last year. His office did not respond to a request for comment.
If the proposal gets the green light, the school would implement the new funding model starting July 1, says Anderson Dean Judy Olian. Anderson would join a handful of business schools at public universities that decided to slash their funding ties with the state in recent years, including the University of Virginia's Darden School of Business and University of Michigan's Ross School of Business.
Olian says the vote was an important step forward for the school and a response to the "urgent need" to find ways to keep up the quality of the school's MBA program amid continued budget cuts. Under the plan, Anderson would have the authority to control tuition increases, have more flexibility in hiring faculty, and have the means to enhance the school's flagship MBA program, Olian says.
"We are in a different era now, and unfortunately we are in a public higher-education system that is under real stress," she says. "We have to think of innovative solutions."
Unpredictable state subsidies over the past few years have made the move necessary for the school, says Olian. Net state funding makes up only about $5.6 million, or roughly 6 percent of the school's operating budget, the school says, an amount that could dwindle if systemwide budget cuts continue. The plan would free up about $8.8 million annually for the rest of the campus, Olian says.
Overall, UC's state funding has fallen from $3.25 billion in fiscal year 2007-08 to $2.37 billion in fiscal 2011-12. The UC system could face another $200 million in cuts if voters don't approve Governor Jerry Brown's proposed tax increases this fall.
Anderson charges $45,385 a year for California residents and $52,580 for out-of-state residents for its full-time MBA program. Anderson hasn't disclosed the tuition to be charged under the self-supporting model, but there will still be a $5,000 tuition credit for California residents under the proposal, Olian says. The school will still have a state-supported doctoral program and a state-supported undergraduate accounting minor, and it will continue its public-mission outreach and other activities, she says.
The school plans to make up for the loss of state funding for its MBA program by becoming more "streamlined and efficient" in its operations and soliciting donations from alumni, says Olian. Alumni have already pledged $19 million in gifts to the school, she adds, on condition that Anderson's MBA program become self-sufficient.
First introduced in 2010, the much-debated proposal has undergone a number of revisions and votes by different committees at the school in the past two years, but the vote by the UCLA Academic Senate's Legislative Assembly is by far the most important, says Romain Wacziarg, a professor of economics at Anderson who favors the MBA program no longer receiving state funds. The Anderson faculty voted on the proposal this winter, with more than 70 percent of the 83 faculty members approving the plan, he says.
"We think the public subsidy is going to disappear anyway, because the state of California is in such a dismal fiscal situation," Wacziarg says. "We should adapt to an inevitable situation rather than delay and be caught by surprise when it is cut."
Faculty opposition to the plan centers on the likelihood that donations would be able to make up for the lost state funds and on philosophical objections to creating a "private" entity within a public institution. UCLA plans to address some of those concerns by convening a joint UCLA administrative task force that will establish principles to guide the development and assessment of future self-supporting degree programs, the school said in a release.
If the proposal is ultimately approved, the MBA program will join five other self-supported, nontraditional master's degree programs at Anderson that currently fall into the "self-supporting" category, including the school's part-time and executive MBA programs. Anderson retains all the tuition and fees paid by students who attend those programs, and it doesn't receive any funding from the University of California system to run them.
Other business schools in the state have been closely watching the debate at Anderson. At the University of California, Davis' Graduate School of Management, Dean Steven Currall last fall submitted a plan to campus leaders that called for phasing out state funding over 10 years and retaining all student tuition and fees from degree programs.
Hans Johnson, a policy fellow at the Public Policy Institute of California, a nonprofit nonpartisan think tank, says the vote by UCLA's faculty is significant because it is the first time any mainstream segment of the California's public higher education has "decided they would be better off going it alone." The proposal has been controversial because it could set a precedent for other professional schools in the state to follow a similar path, he says.
"There are a lot of ifs. If this only ends up being just the business school at UCLA or Berkeley doing this, and then nothing else happens, then we will think very differently of this event," Johnson says. "The concern is it could create a domino effect, with other schools [that] are able to fund themselves going off to do it."
Before it's here, it's on the Bloomberg Terminal.
LEARN MORE